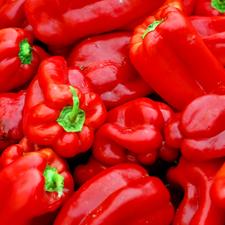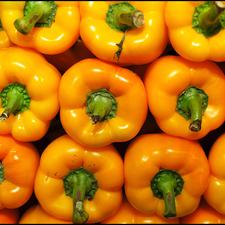 Photo credits (left to right): Photo credits (top to bottom): Flickr: Katili; Flickr: cobblucas; Flickr: jdn
Foods Included
Red, Green, Yellow, Orange, and Purple Bell Peppers
Description
Sweet bell peppers are glossy, bell-shaped vegetables that come in a variety of colors. Green and purple bell peppers taste slightly bitter compared to the much sweeter red, orange, and yellow bell peppers.
Buy It
Look for firm, shiny, bright colored peppers with no browning or soft spots.
Store It
Store peppers in plastic bag in refridgerator for 3-4 days.
Cook It
Wash before using them; cut around stem then pull on it to remove core and seeds; cut pepper in half and trim remaining membrane.
Eat them raw, grilled, sauteed, or roasted; microwave in covered dish with a little water for 4-6 min or until tender
Why It's Great
Vitamin A keeps our eyes working, our immune system strong, and our cells growing.
B Vitamins helps our cells grow and stay healthy.
Vitamin C keeps our immune system strong and helps our bodies heal quickly.
Vitamin K helps our bodies heal quickly.
Fiber helps with healthy digestion and keeps us feeling full.  Eating enough fiber has been shown to keep our hearts healthy too.
Lutein and zeaxanthin are important for keeping our eyes and skin healthy.