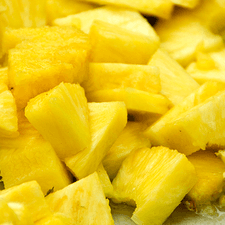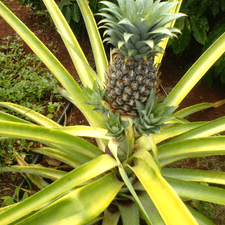 Photo credits (left to right): Photo credits (top to bottom): Flickr: Robert Neff; Flickr: derek7272
Foods Included
Pineapple, South Africa Baby Pineapple
Description
Pineapples are a sweet, tropical fruit that are consumed fresh, cooked, juiced, and preserved. The outer skin looks similar to a spiky pine cone but the inside is bright yellow, juicy, and sweet-smelling.
Buy It
Look for pineapples that are heavy for their size and free of soft spots, bruises and darkened "eyes."
Choose a pineapple that smells sweet on the end.
Store It
Pineapple can be left at room temperature for 2-3 days before serving. This won't make the fruit any sweeter, but it will become softer and more juicy.
Pineapple is very perishable; watch it closely to make sure it doesn't spoil.
Ripe pineapple should be wrapped it in a plastic bag and stored in the refridgerator where it will stay good for 5-7 days.
Cook It
Cut soon after purchasing; begin by twisting off the stem and cutting off each end so you have two flat surfaces. Slice off the skin. Cut the pineapple into quarters and cut out the core. Cut into bite-size pieces and serve or store in an airtight container in the fridge.
Enjoy in a fruit salad or make pineapple salsa.
Why It's Great
Vitamin C keeps our immune system strong and helps our bodies heal quickly.
Manganese helps to keep our bones and nervous system healthy.