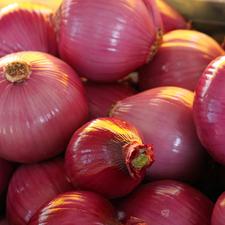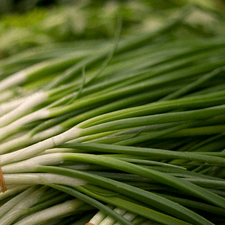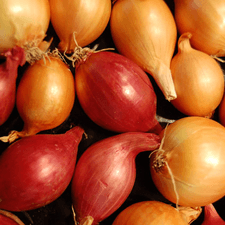 Photo credits (left to right): Photo credits (top to bottom): Flickr: MattJP; Flickr: JMR_Photography; Flickr: ilovebutter
Foods Included
Red Onion, Yellow Onion, White Onion, Pearl Onion, Scallion (green onion), Cipolline onions, Vidalia onions, Leek, Shallots
Description
Onions are an edible bulb that grow underneath soil. Onions are commonly used in cooking and can be eaten raw or cooked. They have many layers inside with thin papery layers on the outside. They are crunchy and pungent when raw, and are soft and sweet when cooked.
Buy It
Onions should have dry, papery skins and be very hard.
Store It
Store in well-ventilated, cool area.
Wrap scallions (green onions) and sweet onions in plastic and store in refrigerator.
Cook It
Cut off stem and root of onion, remove outer skin, cut in half and lay each side on the flat side to slice/chop.
If you chop onions from the top, and not the root end, you will not cry.
Cut the onion in water when possible.
When you need only a small portion of an onion, do not peel the whole onion. Cut off the size you need and peel it. The remainder will keep longer in the refrigerator with the skin on.
Why It's Great
B Vitamins helps our cells grow and stay healthy.
Vitamin C keeps our immune system strong and helps our bodies heal quickly.
Fiber helps with healthy digestion and keeps us feeling full.  Eating enough fiber has been shown to keep our hearts healthy too.
Allicin is an antioxidant that helps keep our heart healthy and protects our cells from damage.