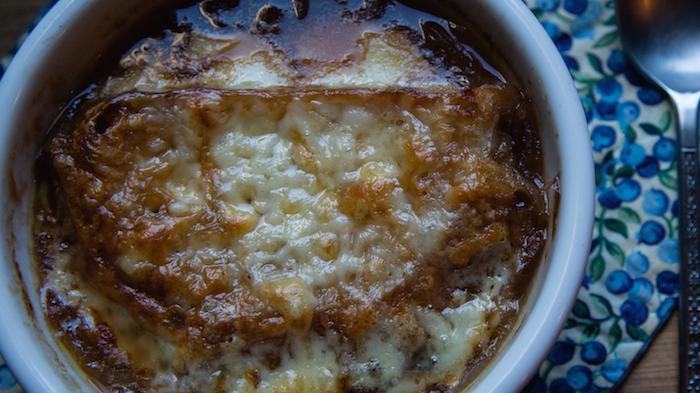 Photo attribution: Javier Briones
Ready In: 35 minutes
Serves: 8
Pair this soup with a hearty salad to warm up on a cool day.
What you'll need
Sharp knife
Measuring cups
Can opener
4 quart saucepan with lid
Ladle
4 oven-safe bowls
Baking sheet (optional)
Ingredients
1 tablespoon All-purpose Flour
10 1/2 fluid ounces Condensed Beef Broth canned
8 ounces Swiss Cheese sliced
Directions
1.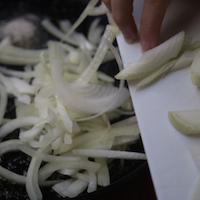 Melt butter in a 4 quart saucepan. Stir in sugar. Cook onions over medium heat for 10 minutes, or until golden brown.
2.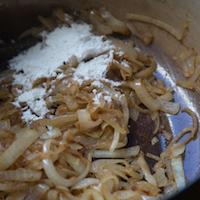 Stir in flour until well blended with the onions and pan juices. Add water, wine, and beef broth; heat to boiling. Reduce heat to low. Cover soup, and simmer for 10 minutes.
3.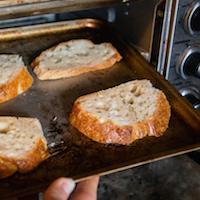 Cut four 1-inch thick slices of bread from the loaf. Toast the bread slices at 325 degrees F (165 degrees C) just until browned, about 10 minutes. Reserve the remaining bread to serve with the soup.
4.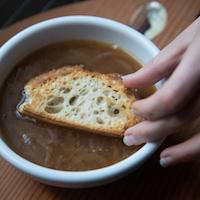 Ladle soup into four 12 ounce, oven-safe bowls. Place 1 slice toasted bread on top of the soup in each bowl.
5.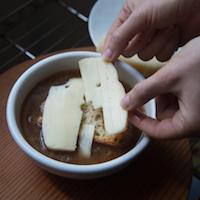 Fold Swiss cheese slices, and fit onto toasted bread slices. Place soup bowls on a baking sheet for easier handling.
6.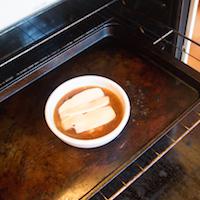 Bake at 425 degrees F (220 degrees C) for 10 minutes, or just until cheese is melted.
Amount Per Serving
Calories 300
% Daily Value*
Total Fat 14.5 g
19%
Saturated Fat 9 g
45%
Sodium 291 mg
13%
Total Carbohydrate 27.3 g
10%
Dietary Fiber 3.4 g
12%
Protein 12.8 g
* Percent Daily Values are based on a 2,000 calorie diet. Your daily values may be higher or lower depending on your calorie needs: