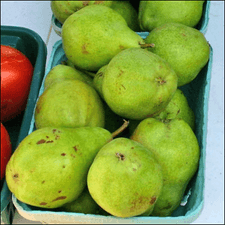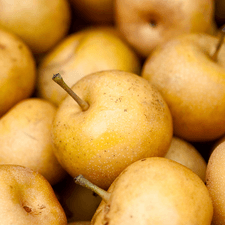 Photo credits (left to right): Photo credits (top to bottom): Flickr: La Grande Farmers' Market; Flickr: See-ming Lee
Foods Included
Bosc, Anjou, Bartlett, Asian, Cactus Pear
Description
Pears are sweet and juicy fruits with mild flavor. When ripe, a pear feels soft and a little grainy on your tongue. Asian pears are more crunchy, like a mix between an apple and a pear. They are also very juicy and sweet.
Buy It
Check the pear next to the stem. If it feels soft, then it's ripe and ready to eat.
Choose pears that are firm with no bruises.
Brown speckling is normal on many pears.
Store It
Store at room temperature for 3-5 days to ripen pears, or keep in the refrigerator if already ripe and use within 5-7 days.​
Cook It
Eat whole or cut into pieces after removing stem, core, and seeds.​
Bake pears in oven and add cinnamon for a sweet dessert.
Why It's Great
Vitamin C keeps our immune system strong and helps our bodies heal quickly.
Fiber helps with healthy digestion and keeps us feeling full.  Eating enough fiber has been shown to keep our hearts healthy too.
Pears are one of the most easily digested fruits.