Learn more about nutrition with the free EatFresh.org Mini Course! Start or continue now ›
https://eatfresh.org/eatfreshorg-mini-course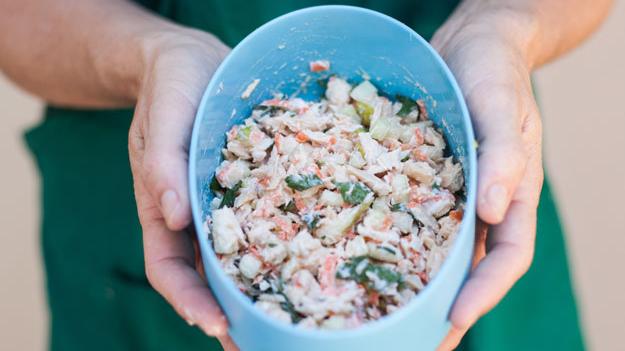 Photo attribution: My Tu Duong
Ready In: 20 minutes
Serves: 2
Pears are a common food pantry item in fall.
What you'll need
Measuring spoons
Sharp knife
Cutting board
2 bowls
Can opener
Grater
Spatula or spoon
Ingredients
2 tablespoons Yogurt unsweetened
5 ounces Tuna in water or oil
1 stalk Celery finely diced
2 tablespoons Parsley fresh or dried, (optional)
2 tablespoons Nuts chopped, (optional)
Directions
1.To make the dressing, mix yogurt and lemon juice in a small bowl. For thin dressing, add a tablespoon of water or milk.
2.If tuna is packed in oil, drain it to remove any extra oil. Then mix it with the dry ingredients in a bowl.
3.Toss tuna mixture with dressing. Serve.
Chef's Tips
Chef tip: You can substitute canned salmon for the tuna in this recipe. you can also substitute chopped apple for the chopped pear.
Amount Per Serving
Calories 178
% Daily Value*
Total Fat 3 g
4%
Saturated Fat 1 g
5%
Sodium 365 mg
16%
Total Carbohydrate 21 g
8%
Dietary Fiber 5 g
18%
Protein 19 g
* Percent Daily Values are based on a 2,000 calorie diet. Your daily values may be higher or lower depending on your calorie needs: