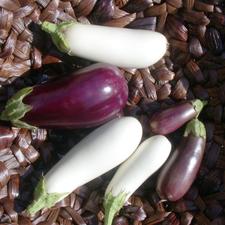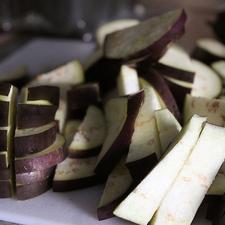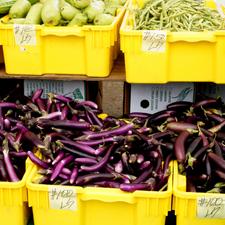 Photo credits (left to right): Photo credits (top to bottom): Flickr: graibeard; Flickr: quinn.anya; Flickr: SMcGarnigle
Foods Included
English, Chinese, Indian, Japanese, Pingtung Long, Thai, White
Description
Eggplant is an egg-shaped glossy black vegetable that has white flesh with a meaty texture. Many people enjoy eggplant as a substitute for meat in dishes because of the texture. When eggplants are cut, the white flesh turns brown quickly.
Buy It
Choose eggplants that have shiny, smooth skin without bruises or blemishes.
Choose eggplants that are heavy for their size and a green stem that is free of mold.
Smaller eggplants are often less bitter than larger eggplants.
Store It
Eggplants are sensitive to temperature and should be stored in the refrigerator.
Do not cut an eggplant before you store it since it will go bad quickly.
Cook It
Wash the eggplant and cut off the ends. Most eggplants can be eaten with the skin so leave it on.
For a less bitter tasting eggplant, sprinkle it with salt after cutting into pieces and let it sit for 30 minutes. This will pull out some of the water and make it less likely to absorb a lot of oil while cooking. Rinse the eggplant afterwards to remove most of the salt.
Eggplant can be baked, roasted, steamed, or sautéed. If baking whole, pierce the eggplant several times with a fork. Bake at 350˚F for 15-25 minutes. Test for doneness by inserting a knife or fork.
Why It's Great
Vitamin C keeps our immune system strong and helps our bodies heal quickly.
Vitamins C and K help our bodies heal quickly.
Fiber helps with healthy digestion and keeps us feeling full.  Eating enough fiber has been shown to keep our hearts healthy too.
Folate, or folic acid, helps our tissues grow and our cells work. Especially important for pregnant women.
Potassium, a type of electrolyte, helps build muscle and keeps your heart healthy.
Manganese helps to keep our bones and nervous system healthy.