Learn more about nutrition with the free EatFresh.org Mini Course! Start or continue now ›
https://eatfresh.org/eatfreshorg-mini-course
Ready In: 10 minutes
Serves: 10
Try this salad as a condiment on grilled fish and chicken dishes.
What you'll need
Measuring cups
Measuring spoons
Can opener
Cutting board
Sharp knife
Large bowl
Whisk or fork
Tongs or 2 large spoons
Ingredients
2 tablespoons Balsamic Vinaigrette
15 ounces Black Beans canned, drained, rinsed
15 ounces Great Northern Beans canned, drained, rinsed
2 cups Corn frozen, thawed
1 Red Bell Pepper medium, chopped
1/3 cup Cilantro fresh, chopped
2 Jalapeño Peppers small, seeded and chopped (optional)
Directions
1.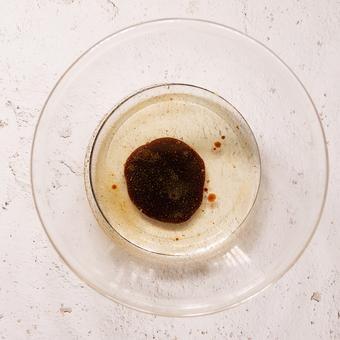 In a large bowl, whisk oil, vinegar, and cumin.
2.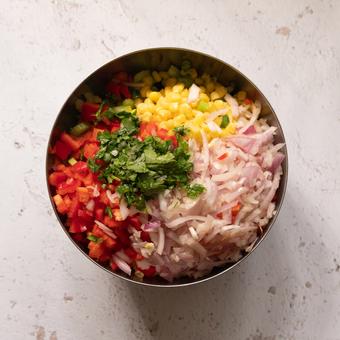 Add remaining ingredients and toss to coat.
3.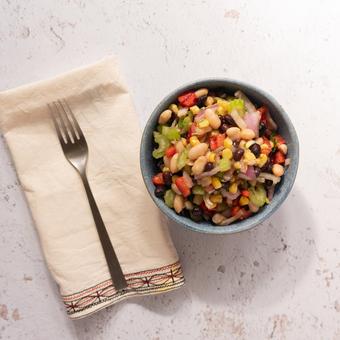 Serve immediately or refrigerate for up to 1 hour to allow flavors to blend.
Chef's Tips
If you want to enjoy this dish immediately, consider reducing the red onion by half so it doesn't overpower the other flavors. If you are able to let it sit longer, the flavors will blend more and the onion won't be as strong.
Amount Per Serving
Calories 227
% Daily Value*
Total Fat 8 g
10%
Saturated Fat 1 g
5%
Sodium 334 mg
15%
Total Carbohydrate 31 g
11%
Dietary Fiber 9 g
32%
Protein 9 g
* Percent Daily Values are based on a 2,000 calorie diet. Your daily values may be higher or lower depending on your calorie needs: