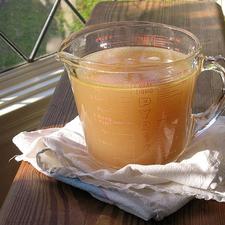 Photo credits (left to right): Photo credits (top to bottom): Flickr: www.worththewisk.com
Foods Included
Low-sodium Vegetable broth, Low-sodium Chicken broth, Low-Sodium Beef broth, Water
Description
Broth is a liquid in which bones, meat, fish, cereal grains, or vegetables have been simmered. "Stock" and "broth" are often used interchangeably, but sometimes "broth" means made from meat and vegetables, while "stock" always includes the bones. Both are very low in calories. Water can be used in place of broth if you don't have any broth or if you want to reduce sodium in a dish.
Buy It
Broth is very high in sodium. Look for the words "low sodium" on the front of the container for a healthier option.
Store It
Store homemade broth or stock in the refrigerator and use within a couple days.
Freeze broth or stock in ice cube trays for quick and easy use later.
Keep store-bought liquid broth or stock in the pantry until opened. Once opened, store in the refrigerator and use within 7-10 days.
Cook It
Use broth or stock to make an easy soup at home. Add cooked meat, vegetables, herbs, and spices of your choice to 6 cups of broth and simmer for 20 minutes.
Why It's Great
Broth is inexpensive and filling when used to make a soup.
Stock has vitamins and minerals that keep your body healthy.