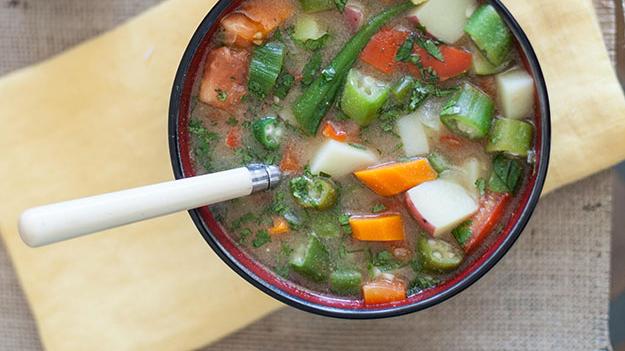 Photo attribution: My Tu Duong
Ready In: 50 minutes
Serves: 4
This traditional vegetable soup is a great way to use up any vegetables you have.
What you'll need
Measuring spoons
Measuring cups
Cutting board
Sharp knife
Large pot
Stovetop
Spatula or spoon
Ingredients
2 tablespoons Vegetable Oil
1 teaspoon Coriander Seed ground
3 cups Vegetable Broth low-sodium
2 Red Potatoes medium, chopped
1 pound Okra fresh or frozen, chopped
Black Pepper ground, to taste
1/4 cup Cilantro fresh, chopped
Directions
1.In a large pot, heat oil over medium. Add onion and cook until soft, about 5 minutes.
2.Add garlic, cumin, and coriander. Cook for 1 minute.
3.Add stock, carrots, potatoes, zucchini, and bell pepper. Stir and bring to a boil. Reduce heat and simmer 15 to 20 minutes.
4.Stir in okra and tomato. Simmer until vegetables are tender, 5 to 10 minutes.
5.Season with salt and black pepper. Garnish with cilantro before serving.
Amount Per Serving
Calories 271
% Daily Value*
Total Fat 9 g
12%
Saturated Fat 1 g
5%
Sodium 531 mg
23%
Total Carbohydrate 43 g
16%
Dietary Fiber 12 g
43%
Protein 10 g
* Percent Daily Values are based on a 2,000 calorie diet. Your daily values may be higher or lower depending on your calorie needs: