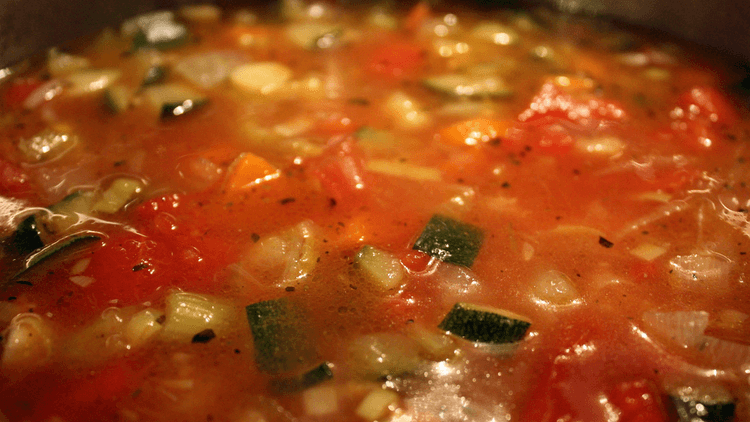 Photo attribution: Flickr: Brocco Lee
Ready In: 8 hours 15 minutes
Serves: 7
Sure to warm you up on a cool evening, this minestrone soup is high in fiber, iron, magnesium and potassium.
What you'll need
Cutting board
Sharp knife
Measuring spoons
Measuring cups
Can opener (if using canned items)
Crockpot (slow cooker)
Microwave safe dish (if microwaving items first)
Spatula or spoon
Ingredients
1/2 tablespoon Oregano Dried
1/8 tablespoon Red Pepper Flakes
3 cups Vegetable Broth Low-sodium
1/2 cup Cannellini Beans Dried, soaked overnight
1 Carrot cut into ½-in pieces
1 Zucchini Small, quartered lengthwise and sliced ¼-in thick
3 Swiss Chard leaves, ½-in wide slices
Directions
1.If possible, microwave onion, garlic, oil, oregano and red pepper flakes until onion is softened, about 5 minutes
2.Put into slow cooker and add the first 9 ingredients.
3.Cook for 9-11 hours on LOW or 5-7 hours on HIGH.
4.Add zucchini and chard and cook until vegetables are tender (about 20-30 minutes).
5.Add salt and pepper to taste. Top with fresh basil or parmesan, if desired.
Amount Per Serving
Calories 103
% Daily Value*
Total Fat 2.7 g
3%
Saturated Fat <1 g
3%
Sodium 268 mg
12%
Dietary Fiber 5.2 g
19%
* Percent Daily Values are based on a 2,000 calorie diet. Your daily values may be higher or lower depending on your calorie needs: