Learn more about nutrition with the free EatFresh.org Mini Course! Start or continue now ›
https://eatfresh.org/eatfreshorg-mini-course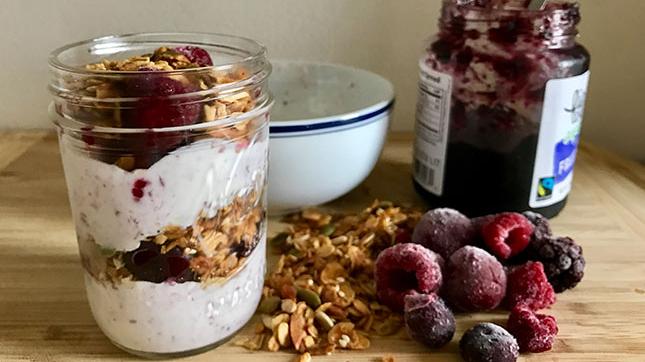 Photo attribution: Jessica Silldorff
Ready In: 15 minutes
Serves: 4
Use any combination of your favorite fruits and toppings with this delicious recipe.
What you'll need
Measuring cups
Measuring spoons
Sharp knife
Cutting board
Large bowl
Spoon
Small bowl or cups
Ingredients
1 cup Strawberries fresh or frozen or Blueberries fresh or frozen
2 cups Yogurt unsweetened
1 cup Banana or Peaches fresh or frozen
2 tablespoons Jam 100% fruit or Honey
1 cup Granola or Oat Cereal low-sugar
Directions
1.Wash and cut fruit into small pieces.
2.In a bowl, mix the yogurt and fruit spread together.
3.Layer each of the four parfaits as follows: ¼ cup fruit, ¼ cup yogurt, 2 tablespoons granola (repeat).
Storage Tips
Combine all ingredients except the granola the night before for a quick breakfast.
Chef's Tips
Carefully read the labels on the yogurt, granola, and cereal you buy. Many have a lot of added sugar.
Amount Per Serving
Calories 272
% Daily Value*
Total Fat 7 g
9%
Saturated Fat 4 g
20%
Sodium 137 mg
6%
Total Carbohydrate 44 g
16%
Dietary Fiber 4 g
14%
Protein 9 g
* Percent Daily Values are based on a 2,000 calorie diet. Your daily values may be higher or lower depending on your calorie needs: