Learn more about nutrition with the free EatFresh.org Mini Course! Start or continue now ›
https://eatfresh.org/eatfreshorg-mini-course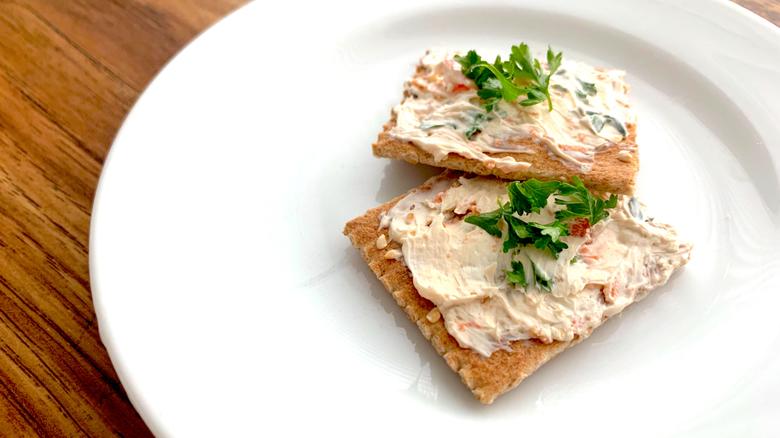 Photo attribution: Anna Ng
Ready In: 10 minutes
Serves: 4
A tasty dip for veggies or a fun spread on crackers or bagels
What you'll need
Cutting board
Sharp knife
Grater
Large bowl
Spatula or spoon
Measuring spoons
Ingredients
4 ounces Cream Cheese low-fat, whipped or softened
1/2 Red Bell Pepper finely diced
2 Green Onions finely diced
1 tablespoon Fresh Herbs chopped
1 teaspoon Lemon Juice or 1 teaspoon Lime Juice
Video Directions
Directions
1.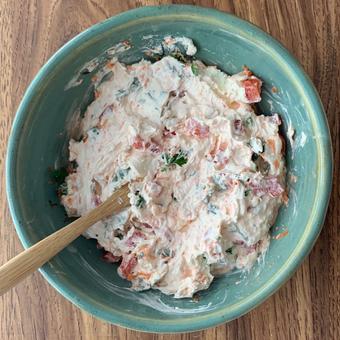 Mix all ingredients in a bowl and stir with a rubber spatula until creamy.
2.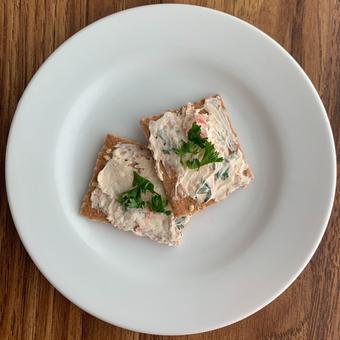 Spread on whole grain crackers and enjoy!
Chef's Tips
This is a great way to use up leftover herbs (such as dill, thyme, oregano, basil) and vegetables.
You can also spread this on a whole grain flour tortilla, roll up, then slice for mini pinwheel sandwiches.
Amount Per Serving
Calories 61
% Daily Value*
Total Fat 4 g
5%
Saturated Fat 3 g
15%
Sodium 106 mg
5%
Total Carbohydrate 3 g
1%
Dietary Fiber <1 g
1%
Protein 2 g
* Percent Daily Values are based on a 2,000 calorie diet. Your daily values may be higher or lower depending on your calorie needs: