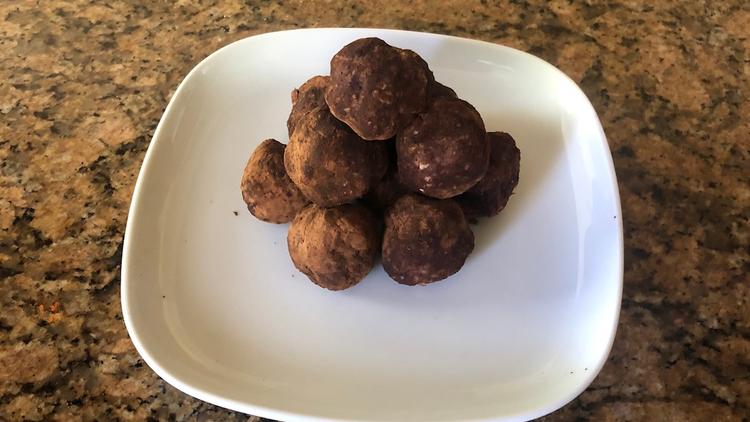 Photo attribution: Joanne Sae Yeon Lee
Ready In: 5 minutes
Serves: 12
Use this recipe to turn common pantry staples into a quick, tasty snack.
What you'll need
Blender or food processor
Ingredients
1/2 cup Dried Fruit soaked or 1 cup Dates
1/2 cup Nut Butter (sun/almond/peanut)
1 teaspoon Vanilla Extract
1 teaspoon Ground Cinnamon
1/4 cup Nuts or Pumpkin Seeds or Sunflower Seeds
1 teaspoon Cocoa Powder unsweetened, optional
Video Directions
Directions
1.
In a food processor or blender, put in dried fruit, nut butter, vanilla extract, ground cinnamon, and raw nuts or seeds. Blend them for a few minutes until you get a paste-consistency.
2.
Add rolled oats (and cocoa powder) and blend for another 1 minute. If the consistency is still too wet, feel free to add more rolled oatmeal 2 tbsp at a time.
3.
Once the batter comes to the desired consistency (like cookie dough), empty out the batter into a separate bowl and form into balls or squares.
Storage Tips
Place leftovers in an airtight container and store in the refrigerator for 3-4 days or in the freezer for 3-4 months! 
Chef's Tips
To make this recipe without a food processor or a blender, substitute the dried fruit or dates with applesauce or honey and mix with a spatula.
Amount Per Serving
Calories 130
% Daily Value*
Total Fat 8 g
10%
Saturated Fat 1 g
5%
Sodium 56 mg
2%
Total Carbohydrate 13 g
5%
Dietary Fiber 2 g
7%
Protein 4 g
* Percent Daily Values are based on a 2,000 calorie diet. Your daily values may be higher or lower depending on your calorie needs: