Ready In: 20 minutes
Serves: 6
A simple and delicious side dish with bright flavors and crunchy texture from the walnuts.
What you'll need
Large skillet
Serving bowl
Ingredients
2 tablespoons Lemon Juice
2 tablespoons Olive Oil divided
1/2 teaspoon Black Pepper
2 stalks Leeks white and pale-green parts only, cut into half moons
2 Zucchini cut into half moons
1/2 cup Fresh Parsley chopped
Directions
1.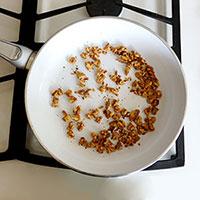 In a dry skillet, toast walnuts over medium heat. Stir often and cook until fragrant, about 5 minutes. Transfer nuts to a large bowl.
2.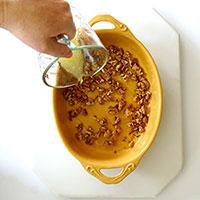 Transfer nuts to a large bowl. Then, add garlic, lemon juice and half the olive oil to the walnuts. Stir well, seasoning with salt and pepper.
3.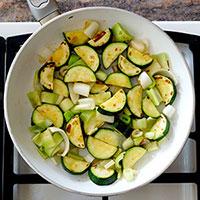 In the same skillet, heat second half of the oil. Add vegetables and cook until tender, for 8–10 minutes. Stir occasionally.
4.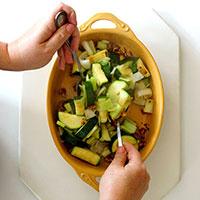 Transfer vegetables to the bowl of dressed walnuts. Add parsley and toss gently to combine.
Amount Per Serving
Calories 151
% Daily Value*
Total Fat 13.8 g
18%
Saturated Fat 1.5 g
8%
Sodium 407 mg
18%
Total Carbohydrate 7.9 g
3%
Dietary Fiber 2.2 g
8%
Protein 3.4 g
* Percent Daily Values are based on a 2,000 calorie diet. Your daily values may be higher or lower depending on your calorie needs: