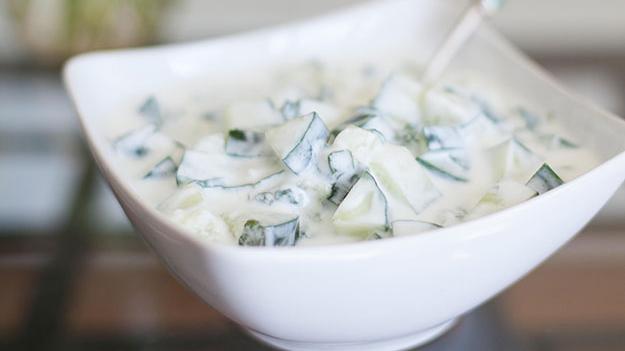 Photo attribution: My Tu Duong
Ready In: 15 minutes
Serves: 4
This cooling dish is perfect with a spicy meal or on a hot day.
What you'll need
Measuring cups
Measuring spoons
Sharp knife
Cutting board
Medium bowl
Spatula or spoon
Ingredients
1 cup Yogurt plain low-fat
1/4 cup Fresh Mint chopped (or 1 teaspoon dried mint)
1 clove Garlic minced (about 1 teaspoon)
1 Cucumber large, cut into cubes (about 2 cups)
Directions
1.Mix together all the ingredients in a medium bowl.
2.For smoother flavors, refrigerate for 30 minutes. Serve with warm pita bread or over rice.
Chef's Tips
Cucumbers can be replaced with thinly sliced romaine lettuce or coarsely chopped purslane.
Amount Per Serving
Calories 60
% Daily Value*
Total Fat 2 g
3%
Saturated Fat 1 g
5%
Sodium 193 mg
8%
Total Carbohydrate 7 g
3%
Dietary Fiber 1 g
4%
Protein 4 g
* Percent Daily Values are based on a 2,000 calorie diet. Your daily values may be higher or lower depending on your calorie needs: