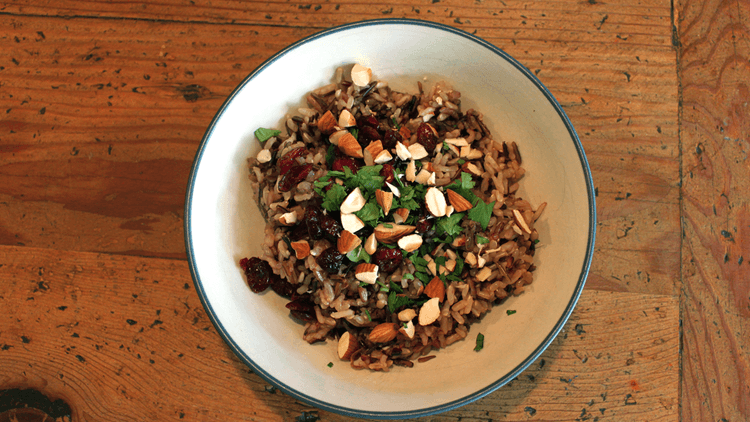 Photo attribution: Jessica Roeckel
Ready In: 55 minutes
Serves: 4
Wild rice has no gluten, contains as much protein as brown rice, and is high in fiber and antioxidants.
What you'll need
Measuring cups
Measuring spoons
Cutting board
Sharp knife
Large pot
Stovetop
Spatula or spoon
Ingredients
1 cup Dried Fruit such as cranberries, blueberries, or cherries, roughly chopped
4 cups Vegetable Broth or 4 cups Chicken Broth
1/2 cup Nuts such as almonds, walnuts, or pecans, chopped
2 tablespoons Parsley (optional)
Directions
1.In a large pot, cook wild rice in broth according to package directions. If package lists a different ratio of rice to liquid than stated above, follow package directions.
2.When the rice is tender, remove from heat, drain any excess liquid.
3.
Mix in the dried fruit, nuts, parsley (optional), and salt and pepper to taste.
Amount Per Serving
Calories 287
% Daily Value*
Total Fat 11 g
14%
Saturated Fat 1.2 g
6%
Sodium 119 mg
5%
Total Carbohydrate 38 g
14%
Dietary Fiber 6 g
21%
Protein 12 g
* Percent Daily Values are based on a 2,000 calorie diet. Your daily values may be higher or lower depending on your calorie needs: