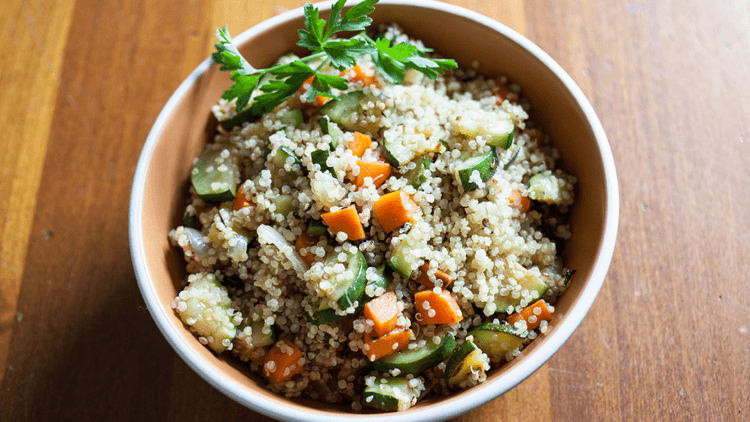 Photo attribution: My Tu Duong
Ready In: 25 minutes
Serves: 4
This veggie quinoa dish is sure to be a hit with the family. It's loaded with good-for-you ingredients!
What you'll need
Sharp knife
Medium pan
Spatula or spoon
Ingredients
1/2 teaspoon Black Pepper
1 tablespoon Dijon Mustard optional
1 tablespoon Red Wine Vinegar optional
Directions
1.Boil broth in a large pot. Add quinoa, cover, reduce heat to low and simmer for 10-15 minutes until liquid has absorbed.
2.Meanwhile heat olive oil in a medium pan over medium heat.
3.Add carrots, onion, zucchini, salt and pepper. Sautee over medium heat until vegetables are soft, about 10-minutes. Stir veggies in quinoa and serve
Chef's Tips
The carrot and zucchini in this dish are suggestions. Use whatever vegetables are in your pantry or garden. The veggie combinations in this dish are almost endless!
Amount Per Serving
Calories 255
% Daily Value*
Total Fat 9.96 g
13%
Saturated Fat 1.45 g
7%
Sodium 400.2 mg
17%
Total Carbohydrate 33.45 g
12%
Dietary Fiber 4.03 g
14%
Protein 8.02 g
* Percent Daily Values are based on a 2,000 calorie diet. Your daily values may be higher or lower depending on your calorie needs: