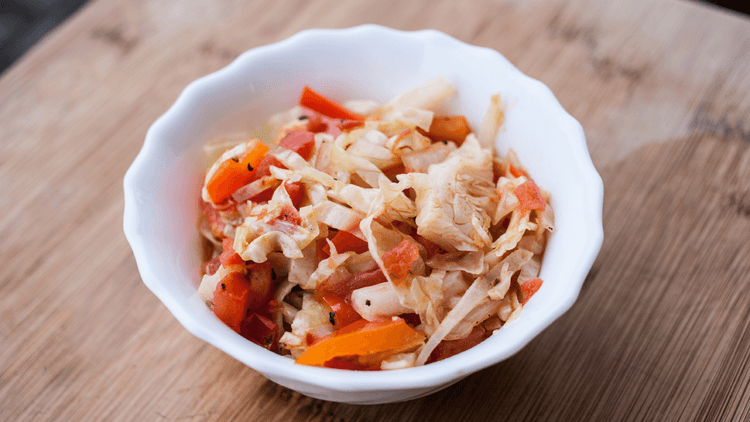 Photo attribution: My Tu Duong
Ready In: 15 minutes
Serves: 6
Sautéeing cabbage keeps some crunch to this nutrient-packed vegetable.
What you'll need
Measuring spoons
Measuring cups
Cutting board
Sharp knife
Large skillet
Stovetop
Spatula or spoon
Ingredients
1 Fresh Bay Leaf optional
4 cups Cabbage cored, thinly sliced
1/2 teaspoon Salt adjust to taste
1/4 teaspoon Black Pepper adjust to taste
Directions
1.In a large frying pan, over medium heat: heat olive oil.
2.Add onion, garlic, bell pepper and tomatoes; sauté for 5 minutes.
3.Add cabbage and bay leaf, mix well and cook for an additional 5 minutes.
4.Season with salt and pepper.
5.Turn the heat off.
6.Serve warm.
Amount Per Serving
Calories 50
% Daily Value*
Total Fat 2 g
3%
Sodium 210 mg
9%
Total Carbohydrate 8 g
3%
Dietary Fiber 3 g
11%
* Percent Daily Values are based on a 2,000 calorie diet. Your daily values may be higher or lower depending on your calorie needs: