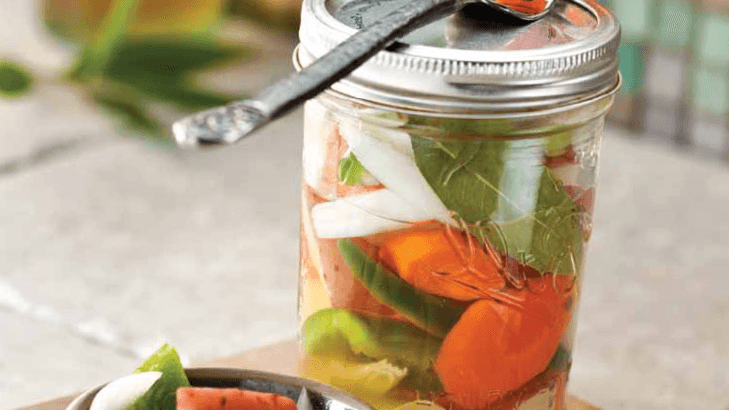 Photo attribution: Flickr: janelle js pw
Ready In: 35 minutes
Serves: 8
Served as an appetizer or a healthy snack, you'll love these spicy vegetables!
What you'll need
Saucepan
Large Bowl or Resealable Bag
Cutting board
Sharp knife
Vegetable peeler
Measuring spoons
Measuring cups
Stovetop
Spatula or spoon
Ingredients
1 pound Red Potatoes cubed
3 Carrots medium, peeled and sliced
2 Jalapeño Peppers stemmed and cut into thick slices
2 cloves Garlic thinly sliced
1 Bell Pepper cut into strips
1/2 Onion Medium, cut into strips
Directions
1.Place potatoes in a saucepan with ¼-inch of water (or place in a steamer basket). Bring water to a boil; cover and steam for 5 minutes.
2.Add carrots; cover and steam for 5 minutes more or until potatoes are tender. Remove from heat and run under cold water to quickly cool vegetables.
3.Place in a large bowl/jar or resealable bag with all remaining ingredients. Cover and refrigerate for at least 1 hour or overnight, stirring occasionally.
4.Serve chilled.
Amount Per Serving
Calories 60
% Daily Value*
Sodium 170 mg
7%
Total Carbohydrate 15 g
5%
Dietary Fiber 3 g
11%
Protein 1 g
* Percent Daily Values are based on a 2,000 calorie diet. Your daily values may be higher or lower depending on your calorie needs: