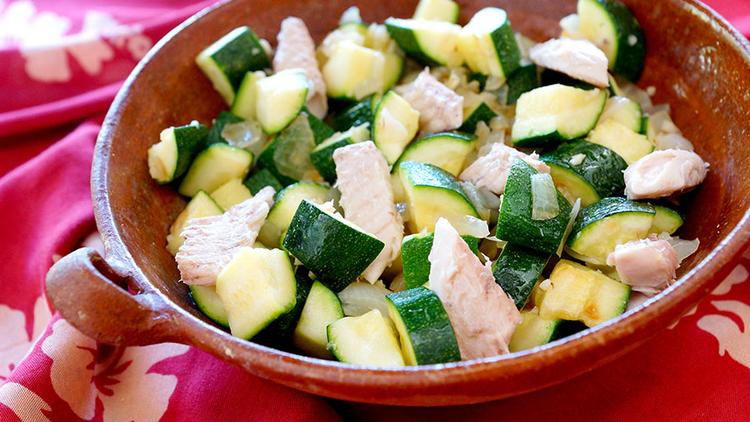 Photo attribution: Jessica Silldorff
Ready In: 30 minutes
Serves: 4
Samoan pilikaki, or canned mackerel, contains healthy fats such as omega-3. Zucchini squash pairs well with its rich flavor and makes a satisfying meal over brown rice.
Ingredients
3 Zucchini diced (about 4 cups)
4 3/8 ounces Canned Mackerel drained (about 3/4 cup)
2 tablespoons Parsley chopped
Directions
1.Heat oil in a skillet over medium heat. Add onion, and cook until soft, about 5 minutes.
2.Add zucchini, garlic, and salt. Stir, and cook for about 5 minutes or until crisp tender. Stir once or twice to prevent sticking. If needed, add a few tablespoons of water, and cover.
3.Add canned mackerel. Stir, and cover. Cook until the zucchini is tender, 5 to 10 minutes.
4.Just before serving, sprinkle with parsley, and offer lime wedges at the table.
Chef's Tips
During autumn, try peeled and diced butternut squash in place of the zucchini for a colorful variation. Versions with canned salmon or tuna are also delicious.
Amount Per Serving
Calories 118
% Daily Value*
Total Fat 7 g
9%
Saturated Fat 1.4 g
7%
Sodium 188 mg
8%
Total Carbohydrate 6.8 g
2%
Dietary Fiber 1.7 g
6%
Protein 7.8 g
* Percent Daily Values are based on a 2,000 calorie diet. Your daily values may be higher or lower depending on your calorie needs: