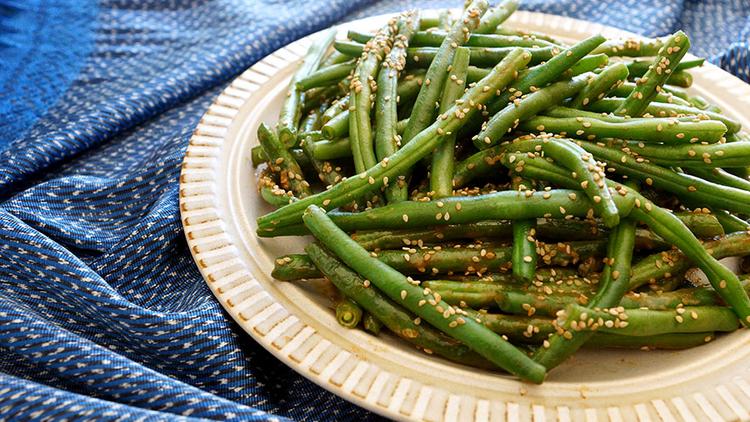 Photo attribution: Jessica Silldorff
Ready In: 11 minutes
Serves: 6
This sesame sauce is also excellent tossed with wilted spinach or lightly steamed broccoli.
What you'll need
Sharp knife
Cutting board
Medium bowl
Plate
Microwave
Measuring spoons
Ingredients
1 pound Green Beans fresh or frozen, trimmed
3 tablespoons Toasted Sesame Seeds finely ground or 2 tablespoons Tahini
2 tablespoons Water very hot
1 tablespoon Rice Vinegar or 1 tablespoon Fresh Lemon Juice
2 teaspoons Mirin or 1 tablespoon Honey
1/2 teaspoon Toasted Sesame Oil
Directions
1.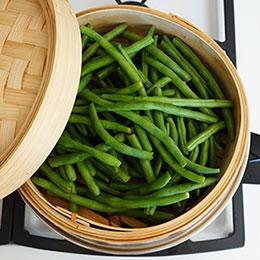 If the beans are long, cut them in half. Sprinkle with salt. Steam for 3 minutes or microwave for about 1 minute. They should still be a little crisp. Spread on a plate and set aside to cool.
2.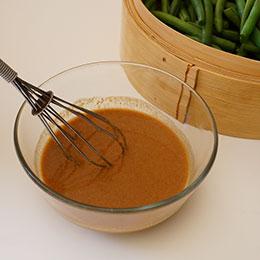 In a medium bowl, combine all the ingredients for the sesame sauce. (sesame seeds, water, rice vinegar, soy sauce, mirin, toasted sesame oil) Stir together until smooth.
3.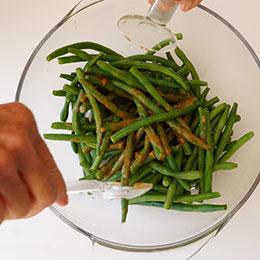 Add the sesame sauce and toss all together. Serve at room temperature or chilled. You can keep in the refrigerator for up to 3 days.
Chef's Tips
Japanese cooks use a special ridged bowl to grind sesame seeds by hand. Tahini, a smooth sesame paste used in Middle Eastern foods, is a convenient alternative. Almond, cashew, or peanut butter will also work well in the sauce.
Amount Per Serving
Calories 62
% Daily Value*
Total Fat 3.2 g
4%
Saturated Fat <1 g
3%
Sodium 223 mg
10%
Total Carbohydrate 7.5 g
3%
Dietary Fiber 2.5 g
9%
Protein 2.3 g
* Percent Daily Values are based on a 2,000 calorie diet. Your daily values may be higher or lower depending on your calorie needs: