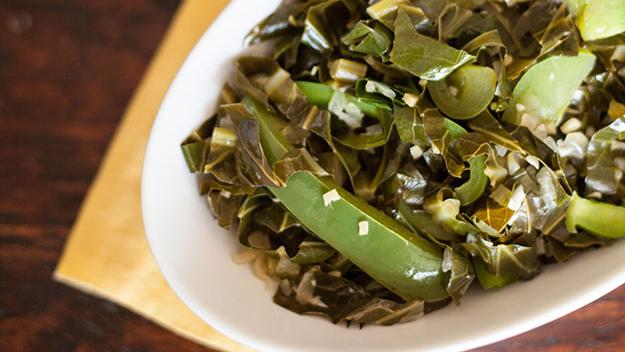 Photo attribution: My Tu Duong
Ready In: 50 minutes
Serves: 6
This traditional Ethiopian vegetarian dish can also be made with kale, mustard, or turnip greens.
What you'll need
Measuring cups
Measuring spoons
Cutting board
Sharp knife
Cooking pot
Stovetop
Ingredients
1 tablespoon Vegetable Oil
1 tablespoon Ginger fresh, peeled, and minced (1-inch piece)
1 bunch Collard Greens chopped finely (about 4 cups)
2 cups Vegetable Broth low-sodium or 2 cups Water
2 tablespoons Lemon Juice
Directions
1.Heat oil in a pot over medium heat. Add onions and cook until a bit browned, about 6 min.
2.Stir in garlic and ginger. Cook for 1 minute.
3.Add collard greens, stock, and salt. Bring to a boil, then reduce heat to low. Cover and simmer until collards are tender, 20 to 30 minutes. Stir a few times.
4.Add bell pepper. Simmer uncovered for 10 minutes to reduce liquid.
5.Just before serving, stir in lemon juice.
Amount Per Serving
Calories 42
% Daily Value*
Total Fat 3 g
4%
Saturated Fat <1 g
3%
Sodium 139 mg
6%
Total Carbohydrate 4 g
1%
Dietary Fiber 1 g
4%
Protein 1 g
* Percent Daily Values are based on a 2,000 calorie diet. Your daily values may be higher or lower depending on your calorie needs: