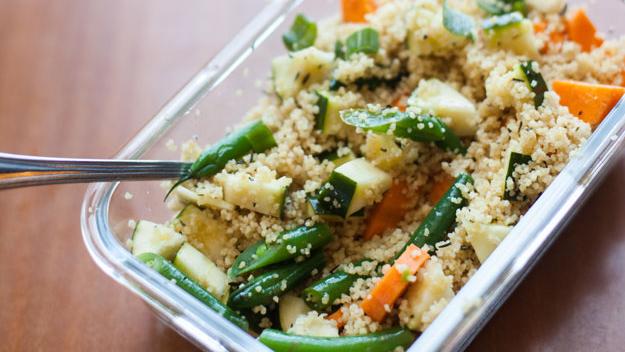 Photo attribution: My Tu Duong
Ready In: 25 minutes
Serves: 2
Couscous is tiny pasta made from a special kind of wheat flour.
What you'll need
Measuring cups
Measuring spoons
Medium bowl
Cutting board
Sharp knife
Plastic wrap
Spatula or spoon
Ingredients
1 teaspoon Dried Herbs such as thyme, oregano, basil, OR 1 tablespoon fresh herbs
2 tablespoons Lemon Juice or 1 tablespoon Rice Wine Vinegar
1/2 teaspoon Onion Powder
1 cup Mixed Vegetables steamed or raw and chopped
1 cup Cooked Beans such as chickpeas (optional)
3/4 cup Feta Cheese crumbled (optional) or 3/4 cup Parmesan Cheese shredded, optional
Directions
1.Mix couscous, herbs, oil, juice or vinegar, and onion power in a medium bowl.
2.Add hot water.
3.Cover tightly and let sit for 15 minutes.
4.Uncover and fluff with a fork.
5.Stir in vegetables and optional ingredients. Season with salt and pepper.
Chef's Tips
Adding cheese or cooked beans to this dish makes it a complete meal.
Amount Per Serving
Calories 290
% Daily Value*
Total Fat 12 g
15%
Saturated Fat 2 g
10%
Sodium 167 mg
7%
Total Carbohydrate 39 g
14%
Dietary Fiber 4 g
14%
Protein 6 g
* Percent Daily Values are based on a 2,000 calorie diet. Your daily values may be higher or lower depending on your calorie needs: