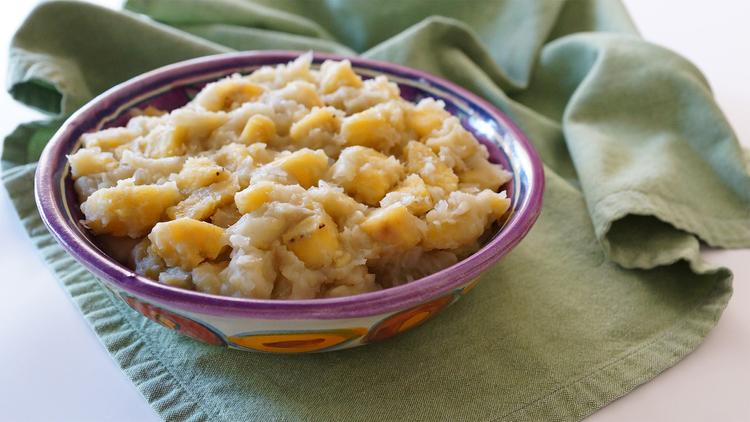 Photo attribution: Jessica Silldorff
Ready In: 40 minutes
Serves: 6
Cassava, also known as yucca, can be found at many Asian or Latino markets. Paired with ripe plantains and coconut milk, this hearty side is naturally sweet and creamy.
What you'll need
Sharp knife
Cutting board
Measuring cups
Measuring spoons
Medium pot with lid
Stovetop
Fork or potato masher
Ingredients
2 Cassava Medium fresh or frozen, about 1 pound
3 Plantains Medium-ripe or 4 Plantains Green (under-ripe)
1 1/2 cups Coconut Water 12 ounces
Directions
1.Peel fresh cassavas with a sharp knife, or thaw frozen ones completely. Cut them into large chunks.
2.Place cassava in a pot, and add water until the cassava is half covered. Bring to a boil; cover tightly, and cook for 10 minutes.
3.Stir in the plantain, coconut water, coconut milk, and salt. Bring to a boil. Then, reduce heat to low. Simmer uncovered until cassava is soft and water absorbed, 20 to 25 minutes. Stir a few times.
4.Mash them to desired smoothness, and serve warm.
Chef's Tips
For faster cooking, look for grated cassava in the freezer section of Asian or Latino markets. Omit steps 1 and 2.
Substitution Tip: In place of all or some of the cassava, try sweet potatoes, taro root, breadfruit, carrots or parsnips.
Amount Per Serving
Calories 251
% Daily Value*
Total Fat 2.5 g
3%
Saturated Fat 2 g
10%
Sodium 242 mg
11%
Total Carbohydrate 58 g
21%
Dietary Fiber 5.5 g
20%
Protein 3.1 g
* Percent Daily Values are based on a 2,000 calorie diet. Your daily values may be higher or lower depending on your calorie needs: