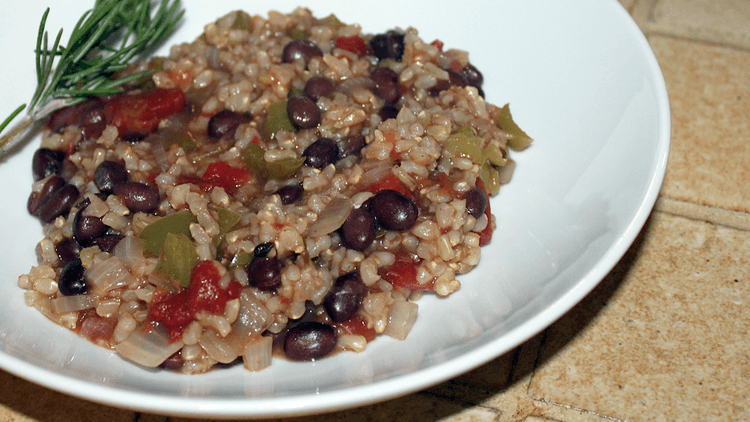 Photo attribution: Adrienne Markworth
Ready In: 30 minutes
Serves: 10
This tropical-inspired dish is gently spiced for a rich flavor.
What you'll need
Measuring spoons
Measuring cups
Sharp knife
Cutting board
Can opener
Large pan with lid
Spatula or spoon
Stovetop
Ingredients
1/2 Green Bell Pepper diced
14 1/2 ounces Stewed Tomatoes canned
16 ounces Black Beans canned, or beans of your choice
1/2 teaspoon Garlic Powder
1 1/2 cups Rice Instant brown, uncooked
Directions
1.Saute onion and green pepper in canola oil, in a large pan, until tender. Do not brown.
2.Add tomatoes, beans (include liquid from both), oregano, and garlic powder. Bring to a boil. Stir in rice and cover. Reduce heat to simmer for 5 minutes. Remove from heat and let stand for 5 minutes.
Amount Per Serving
Calories 185
% Daily Value*
Total Fat 1 g
1%
Sodium 297 mg
13%
Total Carbohydrate 37 g
13%
Dietary Fiber 7 g
25%
Protein 7 g
* Percent Daily Values are based on a 2,000 calorie diet. Your daily values may be higher or lower depending on your calorie needs: