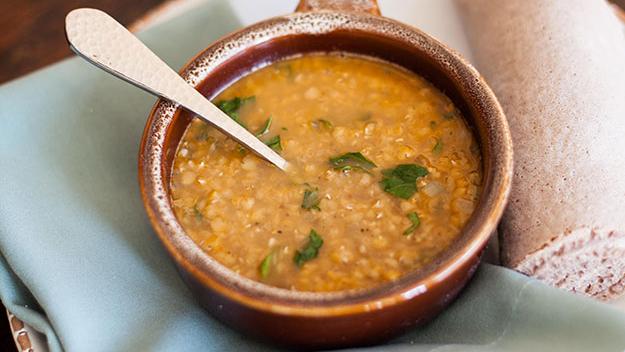 Photo attribution: My Tu Duong
Ready In: 35 minutes
Serves: 8
If you like rich, spicy flavor, this side dish will make you happy!
What you'll need
Measuring cups
Measuring spoons
Cutting board
Sharp knife
Large pot
Strainer
Stovetop
Spatula or spoon
Ingredients
1 Onion small, finely chopped
2 tablespoons Ethiopian Berbere Spice Blend see notes below
2 cups Lentils dried, rinsed, and drained
2 tablespoons Tomato Paste
Directions
1.In a large pot, heat oil over medium heat. Add onion and cook until tender.
2.Stir in garlic and berbere spice or chili powder. Cook for 1 minute.
3.Add water, lentils, tomato paste, and salt.
4.Bring to a boil. Reduce heat to low and simmer until lentils are tender, about 20 minutes (or 30 minutes for brown lentils). Stir occasionally.
5.Serve hot with Ethiopian-style injera or other bread.
Chef's Tips
If berebere spice is difficult to find, substitute your favorite red chili powder.
You may use red or brown lentils in this recipe.
Amount Per Serving
Calories 243
% Daily Value*
Total Fat 8 g
10%
Saturated Fat 1 g
5%
Sodium 599 mg
26%
Total Carbohydrate 34 g
12%
Dietary Fiber 6 g
21%
Protein 12 g
* Percent Daily Values are based on a 2,000 calorie diet. Your daily values may be higher or lower depending on your calorie needs: