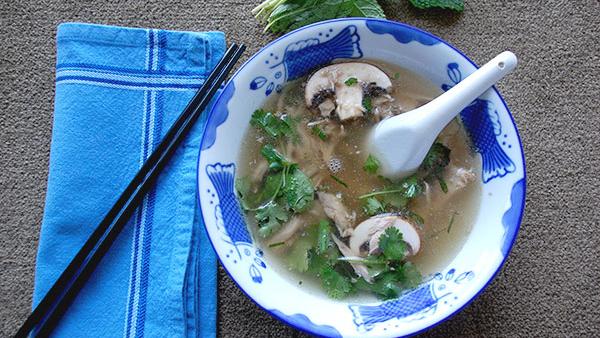 Photo attribution: Zachary Worthington
Ready In: 1 hour 35 minutes
Serves: 6
Comforting simmered lemongrass broth over chicken and mushrooms, served with mint and cilantro.
What you'll need
Measuring cups
Measuring spoons
Sharp knife
Cutting board
Large pot (stockpot) with lid
Serving bowls
Large bowl
Ingredients
2 pounds Chicken Legs skinless
4 stalks Lemongrass white and pale-yellow parts, smashed, and chopped
4 stalks Green Onions halved crosswise
1 tablespoon Fresh Ginger about 1 inch, half thinly sliced and half cut into thin strips
1 Serrano Chile Pepper fresh and seeded
1 bunch Cilantro about 1/3 cup
1 bunch Mint about 1/4 cup
Directions
1.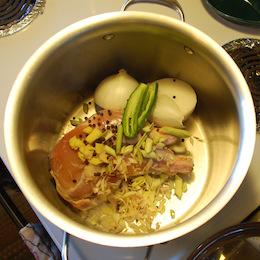 Place chicken, lemongrass, green onions, onion, sliced ginger, chile, peppercorns, and water in large pot. Cover; bring to boil and then simmer 1 hour.
2.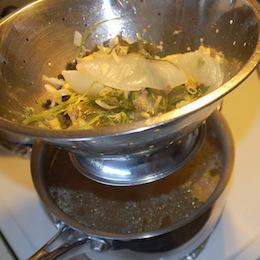 Add cilantro and mint stems; simmer 15 minutes; strain. Reserve broth and chicken; discard remaining solids.
3.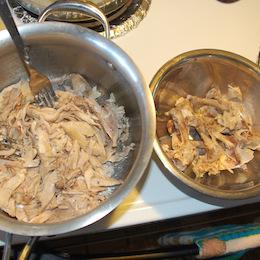 Shred chicken; discard bones. (Optional: Refrigerate broth and chicken separately for 4 hours or overnight; skim fat from broth.)
4.
Combine chicken, ginger strips, cilantro leaves, sliced mint, soy sauce and mushrooms in bowl.
5.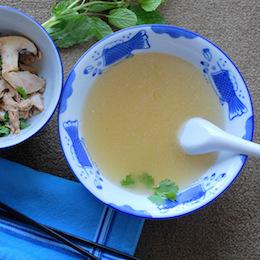 Divide broth among bowls; serve with chicken mixture on the side.
Amount Per Serving
Calories 50
% Daily Value*
Total Fat <1 g
1%
Saturated Fat <1 g
1%
Sodium 113 mg
5%
Total Carbohydrate 5.6 g
2%
Dietary Fiber <1 g
2%
Protein 6.6 g
* Percent Daily Values are based on a 2,000 calorie diet. Your daily values may be higher or lower depending on your calorie needs: