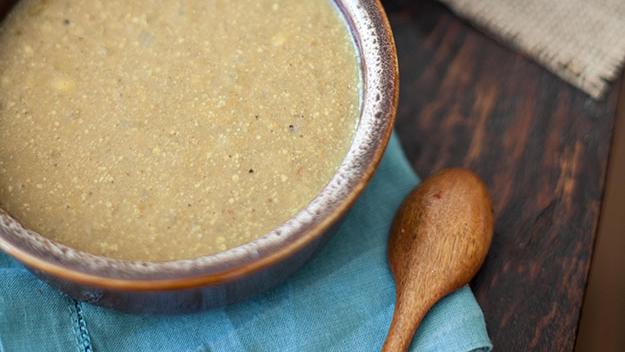 Photo attribution: My Tu Duong
Ready In: 30 minutes
Serves: 8
This is an easy, traditional side dish for an Ethiopian meal.
What you'll need
Measuring cups
Measuring spoons
Cutting board
Sharp knife
Large pot
Stovetop
Whisk or fork
Ingredients
2 tablespoons Vegetable Oil
1 Onion medium, finely chopped
1 tablespoon Ethiopian Berbere Spice see notes below
1/4 teaspoon Turmeric ground
4 tablespoons Garbanzo Bean Flour also called chickpea flour or nech shiro
Directions
1.In a pot, heat oil over medium heat. Add onion. Cook until soft, about 5 minutes.
2.Add garlic, optional berbere spice, salt, and turmeric. Stir and cook for 1 minute.
3.Add water. Whisk in garbanzo flour, adding a small amount at a time while constantly stirring.
4.Bring to a boil. Reduce heat to low and simmer until thick, about 20 minutes. For a thicker stew, whisk in a little more garbanzo flour.
5.Serve hot with injera bread or rice.
Chef's Tips
You can replace berbere spice with your favorite chili powder and a pinch of ground cayenne.
Amount Per Serving
Calories 48
% Daily Value*
Total Fat 4 g
5%
Saturated Fat <1 g
3%
Sodium 320 mg
14%
Total Carbohydrate 3 g
1%
Dietary Fiber 1 g
4%
Protein 1 g
* Percent Daily Values are based on a 2,000 calorie diet. Your daily values may be higher or lower depending on your calorie needs: