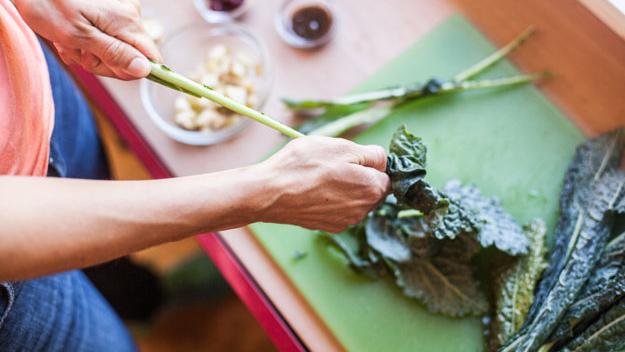 Photo attribution: My Tu Duong
Ready In: 15 minutes
Serves: 4
Kale contains far more vitamins and minerals than lettuce, so it is great in salad.
What you'll need
Sharp knife
Tongs or 2 large spoons
Measuring spoons
Ingredients
4 cups Kale raw and thinly shredded
1/3 cup Salad Dressing non-creamy
1/3 cup Feta Cheese or 1/3 cup Parmesan Cheese
1 cup Quinoa cooked, optional or 1 cup Brown Rice cooked, optional or 1 cup Pasta cooked, optional
1 teaspoon Oregano dried, optional
Directions
1.Toss kale with dressing.
2.Massage well with hands for about 2 minutes. It's ok to squeeze!
3.Allow kale to sit for an hour if possible.
4.Toss other ingredients with kale and serve.
Chef's Tips
Massaging kale with an acidic dressing helps soften it and get the bitterness out. the longer you massage and let it sit, the softer it gets!
Amount Per Serving
Calories 195
% Daily Value*
Total Fat 15 g
19%
Saturated Fat 4 g
20%
Sodium 150 mg
7%
Total Carbohydrate 12 g
4%
Dietary Fiber 3 g
11%
Protein 5 g
* Percent Daily Values are based on a 2,000 calorie diet. Your daily values may be higher or lower depending on your calorie needs: