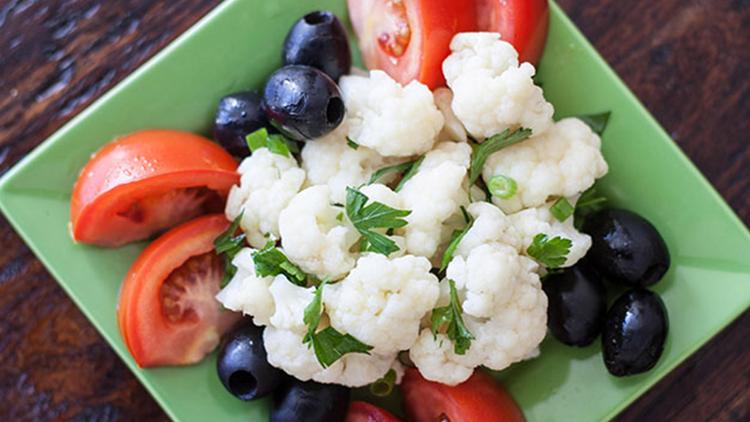 Photo attribution: My Tu Duong
Ready In: 30 minutes
Serves: 4
This is a slightly tart but refreshing salad that is quick to make.
What you'll need
Measuring spoons
Sharp knife
Cutting board
Mixing utensil
Large pot
Colander
Large bowl
serving spoon
Large plate
Ingredients
1 head Cauliflower small, cut into bite-sized pieces (about 4 cups)
3 tablespoons Lemon Juice (about 1 large lemon)
2 tablespoons Parsley chopped
8 Black Olives whole pitted
Directions
1.Bring a large pot of water to boil. Add cauliflower and 1/2 teaspoon of the salt.
2.Boil until slightly tender, 5 to 7 minutes. Strain into a colander and set aside to cool a little.
3.In a large bowl, stir together lemon juice, olive oil, green onions, parsley and remaining ½ teaspoon salt. Add warm cauliflower and toss to combine.
4.Mound cauliflower at the center of a large plate, then arrange tomatoes and olives around the edge.
Chef's Tips
This salad can be made with cooked broccoli or potatoes instead of cauliflower.
Amount Per Serving
Calories 67
% Daily Value*
Total Fat 4 g
5%
Saturated Fat 1 g
5%
Sodium 663 mg
29%
Total Carbohydrate 8 g
3%
Dietary Fiber 3 g
11%
Protein 3 g
* Percent Daily Values are based on a 2,000 calorie diet. Your daily values may be higher or lower depending on your calorie needs: