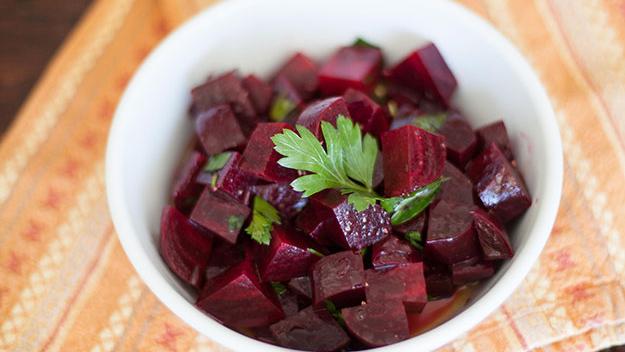 Photo attribution: My Tu Duong
Ready In: 1 hour 10 minutes
Serves: 4
This colorful, filling salad is easy to make and stores well.
What you'll need
Large pot
Medium bowl
Measuring spoons
Measuring cups
Sharp knife
Cutting board
Paper towels
Spatula or spoon
Stovetop
Ingredients
1 pound Beets fresh, whole, about 4 medium
3 tablespoons Lemon Juice about 1 large lemon
2 tablespoons Fresh Parsley chopped
Directions
1.Place unpeeled beets in a pot and add enough water to cover them.
2.Bring to a boil. Reduce heat and simmer until tender, 20 to 30 minutes. Remove and let cool slightly.
3.Rub off peels using two paper towels. Cut beets into medium cubes and place in a bowl.
4.Add lemon juice, olive oil, salt and black pepper. Stir gently.
5.Cover and refrigerate for 30 minutes to meld flavors.
6.Sprinkle with parsley just before serving.
Chef's Tips
To microwave beets: Pierce each several times with a small knife. Place them in a bowl. Drizzle with 1 tablespoon water. Cover with a plate and cook beets on high until they are tender. Check small beets after 5 minutes and large ones after 10 minutes.
Amount Per Serving
Calories 141
% Daily Value*
Total Fat 10 g
13%
Saturated Fat 1 g
5%
Sodium 387 mg
17%
Total Carbohydrate 12 g
4%
Dietary Fiber 3 g
11%
Protein 2 g
* Percent Daily Values are based on a 2,000 calorie diet. Your daily values may be higher or lower depending on your calorie needs: