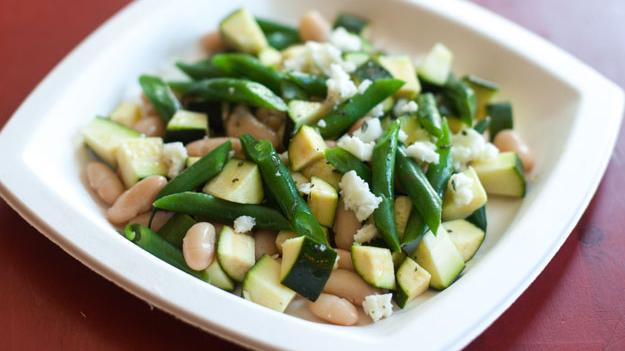 Photo attribution: My Tu Duong
Ready In: 15 minutes
Serves: 2
If you use cheese in this recipe, you may not need to add salt.
What you'll need
Measuring cups
Measuring spoons
Sharp knife
Cutting board
Can opener
Bowl
Strainer
Spatula or spoon
Ingredients
14 ounces Great Northern White Beans low-sodium, drained, and rinsed
1/2 cup Green Beans raw or fresh, trimmed and sliced
1 tablespoon Dried Oregano or 1 tablespoon Dried Herbs
1 tablespoon Red Wine Vinegar or 1 tablespoon Lemon Juice
1/4 cup Cheese grated or crumbled (optional)
Directions
1.Toss everything in a medium bowl to combine.
Chef's Tips
Rinsing canned beans helps to cut down on extra salt, too.
Amount Per Serving
Calories 263
% Daily Value*
Total Fat 9 g
12%
Saturated Fat 1.5 g
8%
Sodium 296 mg
13%
Total Carbohydrate 37 g
13%
Dietary Fiber 14 g
50%
Protein 12.31 g
* Percent Daily Values are based on a 2,000 calorie diet. Your daily values may be higher or lower depending on your calorie needs: