Learn more about nutrition with the free EatFresh.org Mini Course! Start or continue now ›
https://eatfresh.org/eatfreshorg-mini-course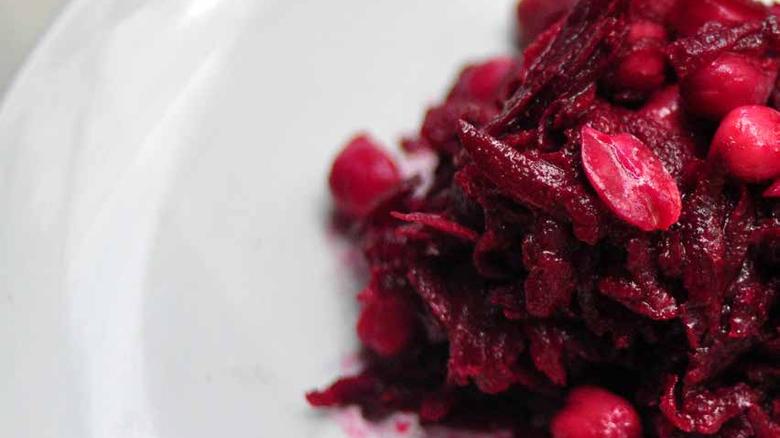 Photo attribution: Leanne Brown
Ready In: 15 minutes
Serves: 4
This dish is spicy, crunchy, and almost certainly the pinkest salad you'll ever eat!
What you'll need
Vegetable peeler
Measuring spoons
Can opener
Measuring cups
Cheese grater (to shred vegetables)
Large bowls
Spatula or spoon
Ingredients
2 Beets peeled and grated
1 cup Chickpeas cooked or canned
Directions
1.Peel the beets, removing the stems if necessary. Shred the beets with a box grater.
2.Mix the dressing ingredients in a large bowl and stir to combine. Taste and adjust the salt and pepper to your liking. Add the shredded beets to the bowl along with the chickpeas and nuts.
3.Mix the ingredients to combine. Let it sit for about 5 minutes so that the flavors can soak into the vegetables and the beet juices can mingle with the dressing.
Storage Tips
This salad does not keep well, so be sure to eat it the same day that it is prepared.
Amount Per Serving
Calories 120
% Daily Value*
Total Fat 4.6 g
6%
Saturated Fat 1.2 g
6%
Sodium 235 mg
10%
Total Carbohydrate 15.6 g
6%
Dietary Fiber 5 g
18%
Protein 5.3 g
* Percent Daily Values are based on a 2,000 calorie diet. Your daily values may be higher or lower depending on your calorie needs: