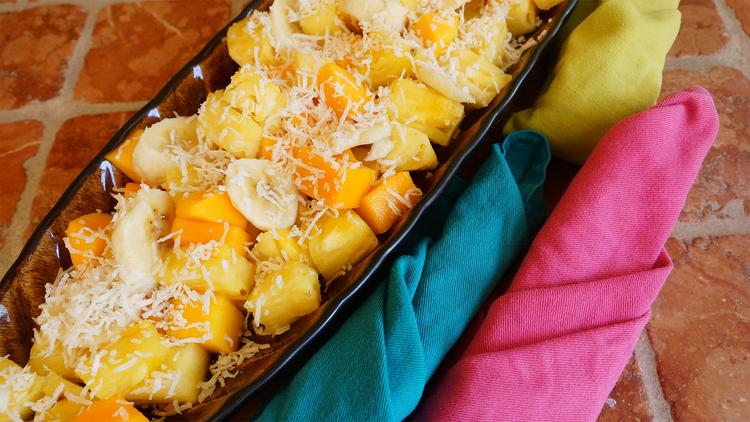 Photo attribution: Era Cathey
Ready In: 20 minutes
Serves: 6
This salad is a pretty dish on any party buffet, or serve it as a refreshing dessert after dinner.
What you'll need
Measuring cups
Measuring spoons
Sharp knife
Large bowl
Cutting board
Tongs or 2 large spoons
Ingredients
1 Pineapple Small, ripe, about 4 cups
1 Lime juiced, about 2 tablespoons
3 tablespoons Coconut unsweetened, dried, shredded
Directions
1.Peel fruit and cut into bite-sized pieces.
2.In a large bowl, combine fruit, lime juice and coconut. Gently stir until evenly mixed.
3.Serve immediately, or cover well and chill up to 8 hours.
Chef's Tips
For an easy picnic dish, use frozen mango cubes to keep the salad chilled during travel.
Substitution Tip: Try this salad with other fresh, tropical fruit such as watermelon, papaya or oranges.
Amount Per Serving
Calories 138
% Daily Value*
Total Fat 1.7 g
2%
Saturated Fat 1 g
5%
Sodium 9.5 mg
0%
Total Carbohydrate 33 g
12%
Dietary Fiber 3.7 g
13%
Protein 1.6 g
* Percent Daily Values are based on a 2,000 calorie diet. Your daily values may be higher or lower depending on your calorie needs: