Learn more about nutrition with the free EatFresh.org Mini Course! Start or continue now ›
https://eatfresh.org/eatfreshorg-mini-course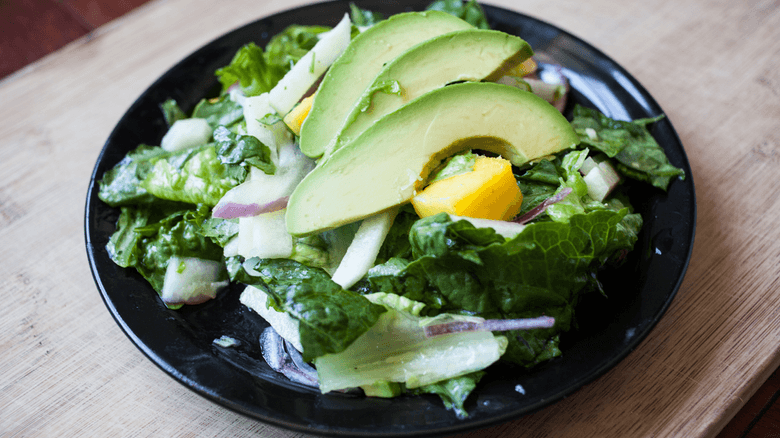 Photo attribution: My Tu Duong
Ready In: 15 minutes
Serves: 6
This refreshing salad is packed with vitamin A and has lots of fiber.
What you'll need
Cutting board
Sharp knife
Strainer
Large bowl
Small container
Whisk or fork
Tongs or spatula
Ingredients
8 cups Romaine Lettuce about one head or 8 cups Mixed Salad Greens
1/2 cup Red Onion finely sliced
1 Mango ripe but firm, peeled and cut into ¾ inch cubes
1/2 cup Jicama cut into ¼ x 2" strips
1 Avocado peeled and sliced
1 1/2 tablespoons Apple Cider Vinegar
1/4 cup Fresh Cilantro cut and discard bottom 2 inches of stems, chopped
1/4 teaspoon Salt adjust to taste
1/4 teaspoon Black Pepper adjust to taste
Directions
1.Wash, strain and cut/tear lettuce into small bite size piece.
2.
In a large bowl: add lettuce, onion mango and jícama.
3.Prepare dressing: a. In a small container: mix cider vinegar, garlic, cilantro, honey, salt and pepper with small whisk or fork. b. Add olive oil slowly, while stirring to blend well.
4.Toss salad lightly with dressing and adjust seasoning if it is necessary.
5.Garnish with avocado slices.
6.Serve.
Chef's Tips
You might also try this recipe with ¼ cup of your favorite vinaigrette dressing, 1½ tablespoon lime juice, plus 1 teaspoon honey.
Amount Per Serving
Calories 175
% Daily Value*
Total Fat 14 g
18%
Saturated Fat 2 g
10%
Sodium 108 mg
5%
Total Carbohydrate 13 g
5%
Dietary Fiber 5 g
18%
Sugars <1 g
* Percent Daily Values are based on a 2,000 calorie diet. Your daily values may be higher or lower depending on your calorie needs: