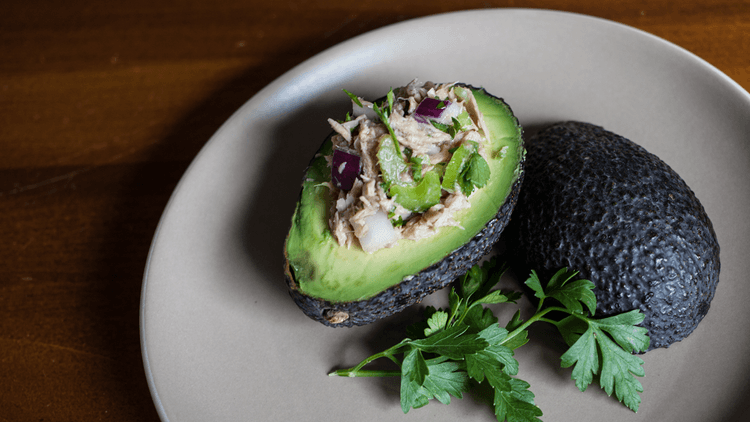 Photo attribution: My Tu Duong
Ready In: 10 minutes
Serves: 4
This recipe uses avocado halves in place of bread for a fulfilling tuna salad.
What you'll need
Can opener
Mixing utensil
Medium bowl
Sharp knife
Cutting board
Measuring cups
Measuring spoons
Spoon
Ingredients
2 Avocados halved and pit removed
5 ounces Tuna packed in water without salt
1/4 Lemon wedged and juiced
1/2 cup Celery thinly sliced
1 tablespoon Parsley chopped
Directions
1.Open can of tuna, drain it, and place in a bowl.
2.Stir in lemon juice and olive oil. Add bell pepper, onion, and parsley. Salt and pepper to taste.
3.Spoon tuna salad filling into the avocado and serve.
Chef's Tips
Add a tablespoon of relish or chopped olives.
Amount Per Serving
Calories 251
% Daily Value*
Total Fat 18 g
23%
Saturated Fat 3 g
15%
Sodium 187 mg
8%
Total Carbohydrate 13 g
5%
Dietary Fiber 8.5 g
30%
Protein 13 g
* Percent Daily Values are based on a 2,000 calorie diet. Your daily values may be higher or lower depending on your calorie needs: