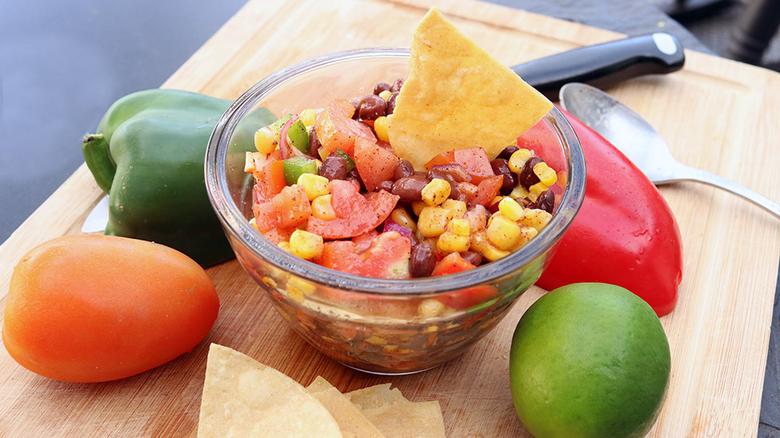 Photo attribution: Wendy Willard
Ready In: 10 minutes
Serves: 4
Beans are a great low-fat source of protein and are full of important nutrients.
What you'll need
Large bowl
Measuring spoons
Measuring cups
Sharp knife
Spatula or spoon
Cutting board
Can opener
Ingredients
2 tablespoons Extra Virgin Olive Oil
1/2 cup Black Beans canned, drained and rinsed
1/2 cup Corn canned, drained
1/2 cup Bell Pepper chopped
1/2 cup Red Onion chopped
1 teaspoon Cumin (optional)
1 teaspoon Chili Pepper (optional)
1/2 teaspoon Salt (optional)
1/2 teaspoon Pepper (optional)
Directions
1.Mix together beans and vegetables in a large bowl. Toss with extra-virgin olive oil, vinegar, and lime juice as the dressing.
Amount Per Serving
Calories 122
% Daily Value*
Total Fat 7 g
9%
Saturated Fat 1 g
5%
Sodium 186 mg
8%
Total Carbohydrate 13 g
5%
Dietary Fiber 3.5 g
13%
Protein 3 g
* Percent Daily Values are based on a 2,000 calorie diet. Your daily values may be higher or lower depending on your calorie needs: