Learn more about nutrition with the free EatFresh.org Mini Course! Start or continue now ›
https://eatfresh.org/eatfreshorg-mini-course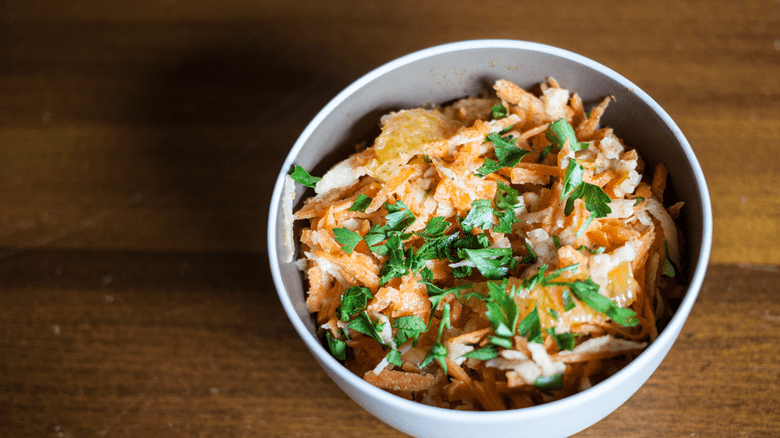 Photo attribution: My Tu Duong
Ready In: 10 minutes
Serves: 6
This carrot and orange salad is packed with beta-carotene, vitamin A and C. It's crunchy and sweet and is great paired with grilled chicken.
What you'll need
Measuring cups
Measuring spoons
Sharp knife
Cutting board
Large bowl
Small container
Spatula or spoon
Ingredients
1 1/2 cups Carrots peeled and grated
2 cups Jicama peeled and grated
2 Oranges peeled, seeded, chopped
2 tablespoons Fresh Parsley chopped
2 tablespoons Fresh Lime Juice
2 tablespoons Mayonnaise low-fat
1/8 teaspoon Salt adjust to taste
1/8 teaspoon Ground Chili Powder optional
Video Directions
Directions
1.In a large bowl, mix carrots, jicama, oranges, and parsley.
2.In a small container, mix lime juice, mayonnaise, salt, and chili powder.
3.Stir lime mixture into the other ingredients and mix well.
4.Adjust salt and chili powder.
5.Serve.
Chef's Tips
Instead of using low-fat mayonnaise, try using 2 parts real mayonnaise and 1 part low-fat or nonfat plain yogurt.
For a different texture, cut the carrots and jicama into ¼ inch cubes.
Amount Per Serving
Calories 60
% Daily Value*
Total Fat 1 g
1%
Saturated Fat <1 g
3%
Sodium 105 mg
5%
Total Carbohydrate 13 g
5%
Dietary Fiber 4 g
14%
Protein 1 g
* Percent Daily Values are based on a 2,000 calorie diet. Your daily values may be higher or lower depending on your calorie needs: