Learn more about nutrition with the free EatFresh.org Mini Course! Start or continue now ›
https://eatfresh.org/eatfreshorg-mini-course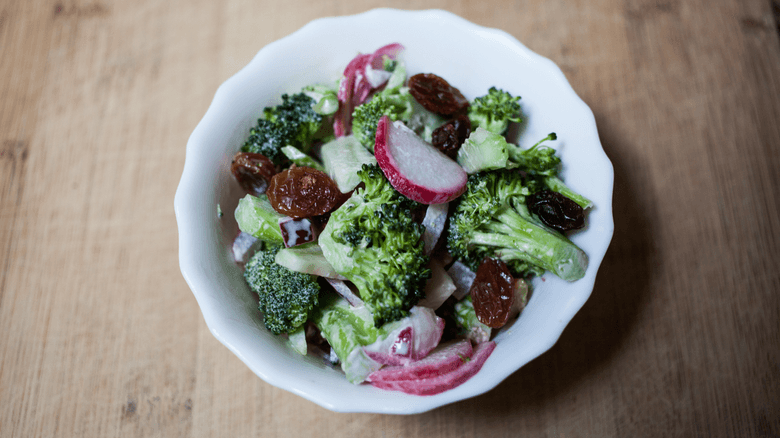 Photo attribution: My Tu Duong
Ready In: 10 minutes
Serves: 6
This sweet and savory salad is packed with antioxidants to keep you feeling great!
What you'll need
Measuring cups
Measuring spoons
Spatula or spoon
Medium bowl
Cutting board
Sharp knife
Small bowl
Ingredients
4 cups Broccoli washed, trimmed, and cut into bite-size pieces
3/4 cup Radishes thinly sliced
2 1/2 tablespoons Yogurt plain, low-fat
1 tablespoon Rice Wine Vinegar or 1 tablespoon Apple Cider Vinegar
Directions
1.In a medium bowl: combine broccoli, onions, raisins and radishes.
2.In a small bowl: blend mayonnaise, yogurt, sugar and vinegar.
3.Pour dressing over broccoli and mix well.
4.Refrigerate for at least 2 hours before serving. (This will help marinate the ingredients but is not essential.)
Chef's Tips
Cooked broccoli can also be used (cook broccoli in ¼ cup of water for 2 minutes).
For an extra crunchy taste: add your choice of nuts or seeds: pine nuts, sunflower seeds, sliced almonds, walnuts, etc.
Amount Per Serving
% Daily Value*
* Percent Daily Values are based on a 2,000 calorie diet. Your daily values may be higher or lower depending on your calorie needs: