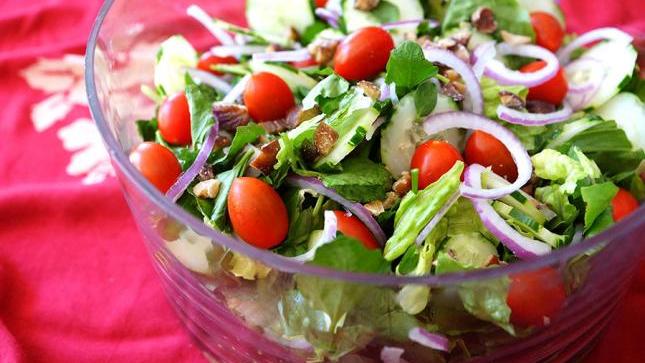 Photo attribution: Jessica Roeckel
Ready In: 20 minutes
Serves: 4
The seed of the ifi tree, also known as aila or mape, is similar to chestnuts. They add bits of nutty richness to this colorful salad.
What you'll need
Measuring cups
Measuring spoons
Cutting board
Sharp knife
Large bowl
Small bowl
Whisk or fork
Ingredients
1 head Romaine Lettuce washed and torn into bite-size pieces (about 4 cups)
1 bunch Watercress snipped into bite-sized sprigs (about 1½ cups)
2 cups Cherry Tomatoes small or 2 Tomatoes medium, cut into wedges
1/2 Red Onion small, sliced thinly
8 Chestnuts roasted, crumbled into large pieces
2 tablespoons Lemon Juice (about 1/2 small lemon)
1/2 teaspoon Black Pepper
Directions
1.In a large bowl, combine lettuce, watercress, tomatoes, cucumber, onion and chestnuts.
2.For Dressing: In a small bowl, combine olive oil, lemon juice, salt and pepper. Whisk or stir well with a fork.
3.Just before serving, drizzle dressing over vegetables and toss lightly.
Chef's Tips
Look for already peeled and roasted chestnuts that come in cans or plastic bags.
Amount Per Serving
Calories 136
% Daily Value*
Total Fat 11.4 g
15%
Saturated Fat 1.3 g
7%
Sodium 311 mg
14%
Total Carbohydrate 8 g
3%
Dietary Fiber 3 g
11%
Protein 3 g
* Percent Daily Values are based on a 2,000 calorie diet. Your daily values may be higher or lower depending on your calorie needs: