Ready In: 45 minutes
Serves: 4
This dish has a delicious and zesty flavor. 5 out of 5 stars!
What you'll need
Large bowl
Small bowl
Whisk or fork
Measuring spoons
Baking sheet
Spatula or spoon
Oven
Oven mitt
Ingredients
Roasted Vegetables
1 head Cauliflower broken into small florets
2 Carrots sliced diagonally
1 Red Onion cut in half and sliced lengthwise
15 ounces Chickpeas canned, drained, rinsed
1 tablespoon Canola Oil or Grapeseed Oil or Safflower Oil
pinch Salt
pinch Black Pepper
Dressing
1 Lemon juiced
1 tablespoon Dijon Mustard
2 tablespoons Olive Oil
2 tablespoons Tahini or more, to taste
1/4 teaspoon Crushed Red Pepper Flakes
1/2 cup Parsley chopped
Directions
1.
Preheat oven to 400° F.
2.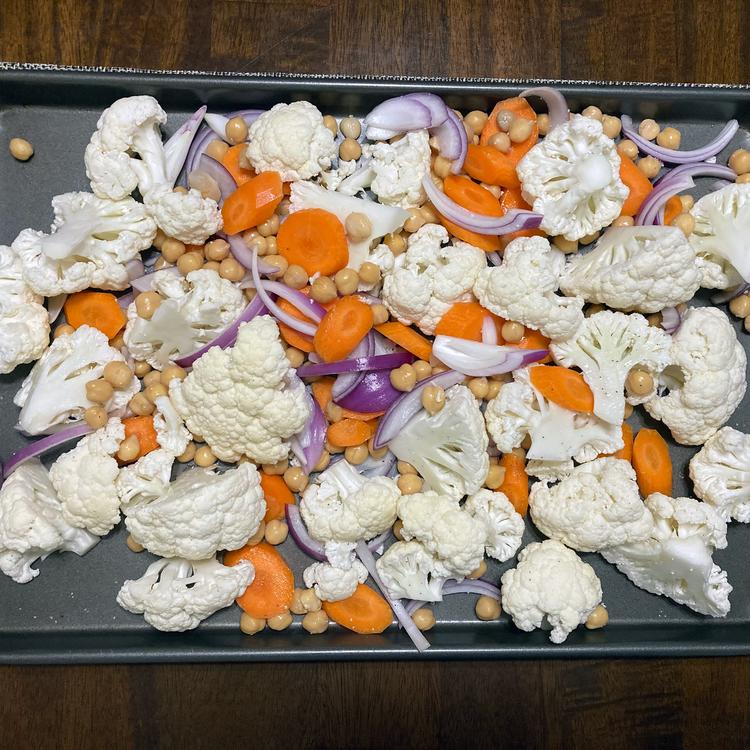 Combine cauliflower, carrots, red onion, chickpeas, high-heat oil, salt and pepper in a large bowl. Toss to combine and transfer to a baking sheet. Roast until cauliflower is al dente, about 30 minutes.
3.
Combine lemon juice, Dijon, olive oil, tahini and crushed red pepper in a small bowl and whisk until well combined. Stir in parsley and set aside.
4.
In a large bowl, combine roasted vegetable mixture with dressing and toss gently to combine. Taste for salt and pepper. Serve warm or at room temperature.
Amount Per Serving
Calories 279
% Daily Value*
Total Fat 15 g
19%
Saturated Fat 2 g
10%
Sodium 446 mg
19%
Total Carbohydrate 30 g
11%
Dietary Fiber 10 g
36%
Protein 10 g
* Percent Daily Values are based on a 2,000 calorie diet. Your daily values may be higher or lower depending on your calorie needs: