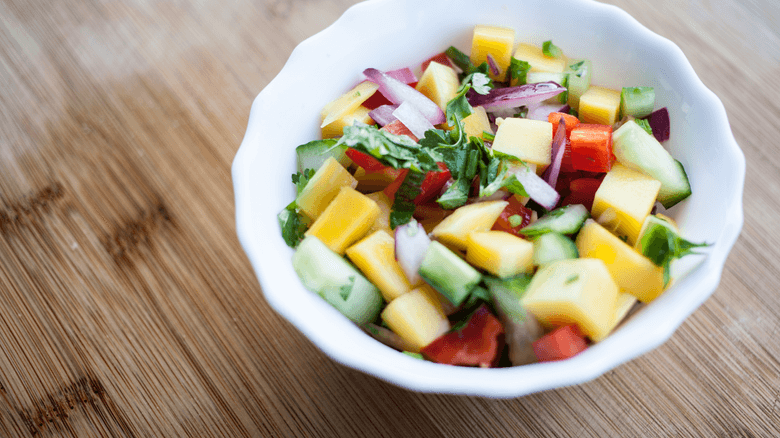 Photo attribution: My Tu Duong
Ready In: 8 minutes
Serves: 6
Serve this mango salad with grilled chicken or seafood. It will add flavor and color that will please the whole family.
What you'll need
Sharp knife
Cutting board
Large bowl
Small container
Spoon
Ingredients
3 cups Mango (about 2 medium), ripe but firm, cubed
1 Cucumber peeled and cubed
1/4 cup Bell Pepper red or green, diced
1/2 Jalapeño Pepper seeded and minced
2 tablespoons Fresh Cilantro cut and discard bottom 2 inches of stems, chopped
3 1/2 tablespoons Fresh Lime Juice adjust to taste
1/4 teaspoon Salt adjust to taste
Directions
1.In a bowl: combine mango, cucumber, bell pepper, onion, jalapeño, and cilantro.
2.In a small container: dissolve brown sugar and salt in the lime juice.
3.Pour lime juice mixture over ingredients in the bowl and mix to cover evenly.
4.Serve.
Storage Tips
If salad is being served later, set cucumber aside and add just before serving.
Chef's Tips
Substitute the cilantro with fresh mint.
Amount Per Serving
Calories 70
% Daily Value*
Total Fat <1 g
1%
Saturated Fat <1 g
1%
Sodium 103 mg
4%
Total Carbohydrate 18 g
7%
Dietary Fiber 3 g
11%
Protein 1 g
* Percent Daily Values are based on a 2,000 calorie diet. Your daily values may be higher or lower depending on your calorie needs: