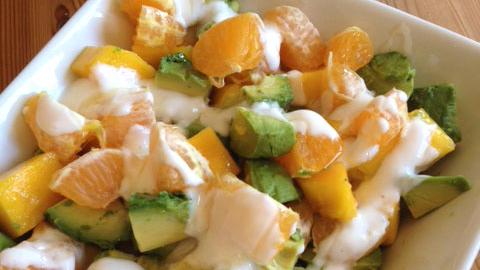 Photo attribution: Tiana Wertheim
Ready In: 15 minutes
Serves: 6
This colorful fruit salad will brighten up any meal. Avocados promote heart health and are full of good fats.
What you'll need
Vegetable peeler
Sharp knife
Small bowl
Large bowl
Cutting board
Measuring cups
Measuring spoons
Ingredients
1 cup Mango firm but ripe
1/2 cup Yogurt plain, low-fat
1 teaspoon Powdered Sugar or Granulated Sugar
1/2 teaspoon Fresh Lime Zest
Directions
1.Peel and chop all fruit into ½ inch chunks.
2.In a small container: mix yogurt, honey, sugar, lime juice, and lime zest.
3.In a large bowl: combine the fruit and yogurt mix.
4.Serve.
Chef's Tips
If you can't find fresh pineapple or tangerines, use defrosted or canned fruit (make sure to get canned fruit in its own juice).
Amount Per Serving
Calories 154
% Daily Value*
Total Fat 5 g
6%
Saturated Fat <1 g
4%
Sodium 14 mg
1%
Total Carbohydrate 29 g
11%
Dietary Fiber 4 g
14%
Sugars 8 g
Protein 2 g
* Percent Daily Values are based on a 2,000 calorie diet. Your daily values may be higher or lower depending on your calorie needs: