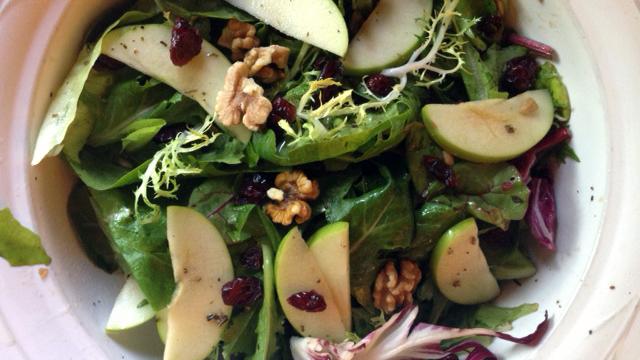 Photo attribution: Tiana Wertheim
Ready In: 10 minutes
Serves: 6
This fresh and tasty salad will delight all.
What you'll need
Cutting board
Sharp knife
Measuring cups
Measuring spoons
Large bowl
Ingredients
1 Apple Granny Smith, Medium, sliced thinly (with skin)
2 tablespoons Lemon Juice
5 cups Mixed Lettuce Greens or your favorite lettuce
1/2 cup Cranberries Dried
1/4 cup Sunflower Seeds Unsalted
1/2 cup Raspberry Vinaigrette Dressing Low-fat
Directions
1.Sprinkle lemon juice on the apple slices.
2.Mix the lettuce, cranberries, apple, walnuts, and sunflower seeds in a bowl.
3.Toss with ⅓ cup of raspberry vinaigrette dressing, to lightly cover the salad.
Amount Per Serving
Calories 138
% Daily Value*
Total Fat 7 g
9%
Saturated Fat 1 g
5%
Sodium 41 mg
2%
Total Carbohydrate 19 g
7%
Dietary Fiber 3 g
11%
Protein 3 g
* Percent Daily Values are based on a 2,000 calorie diet. Your daily values may be higher or lower depending on your calorie needs: