Ready In: 20 minutes
Serves: 6
This stir-fry is colorful, flavorful and loaded with nutrients. Tofu is a great alternative protein that is a great source of calcium and vitamin E.
What you'll need
Large skillet
Stovetop
Sharp knife
Cutting board
Measuring cups
Measuring spoons
Spatula or spoon
Serving utensils
large mixing bowl
Small saucepan
Ingredients
1 tablespoon Vegetable Oil
2 cloves Garlic finely chopped
1 tablespoon Ginger fresh, finely chopped
16 ounces Tofu equivalent to one package, drained and cut into cubes
4 tablespoons Rice Wine Vinegar
2 teaspoons Cornstarch dissolved in 2 tablespoons water
1 Carrot peeled and sliced
1 Green Bell Pepper seeded and cut into strips
1 cup Baby Corn drained and cut into pieces
2 cups Mushrooms fresh, chopped
1 cup Bamboo Shoots drained and chopped
1/2 teaspoon Red Pepper Flakes crushed
2 stalks Green Onions medium, thinly sliced diagonally
Directions
1.
In a large skillet, heat oil over medium-high heat. Stir in onions and cook for one minute. Stir in garlic and ginger, and cook for 30 seconds. Stir in tofu, and cook until golden brown .
2.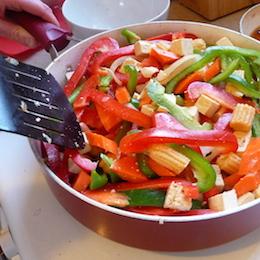 Stir in carrots, bell pepper and baby corn, cooking for 2 minutes. Stir in bok choy, mushrooms, bean sprouts, bamboo shoots, and crushed red pepper, and heat through. Remove from heat.
3.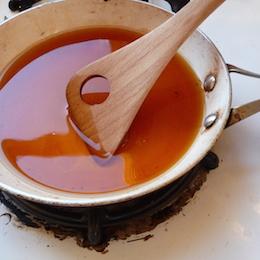 In a small saucepan, combine water, rice wine vinegar, honey, and soy sauce, and bring to a simmer. Cook for two minutes, then stir cornstarch into water mixture. Simmer until sauce thickens.
4.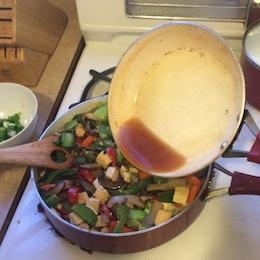 Pour sauce over vegetables and tofu. Garnish with scallions.
Amount Per Serving
Calories 174
% Daily Value*
Total Fat 6 g
8%
Saturated Fat <1 g
5%
Sodium 352 mg
15%
Total Carbohydrate 25 g
9%
Dietary Fiber 6 g
21%
Protein 9 g
* Percent Daily Values are based on a 2,000 calorie diet. Your daily values may be higher or lower depending on your calorie needs: