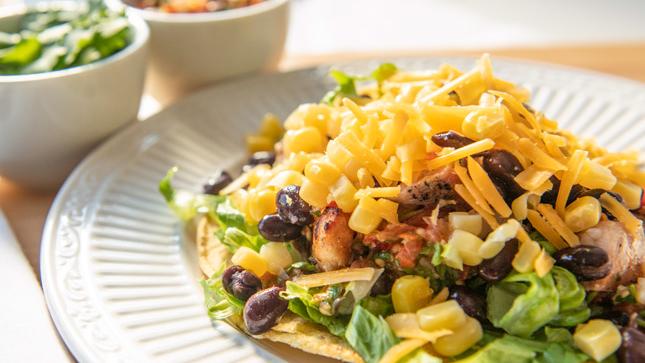 Photo attribution: David Pettijohn
Ready In: 15 minutes
Serves: 4
Switch it up on taco night with these tasty tostadas! Pair with your homemade salsa for a nutritious meal!
What you'll need
Measuring cups
Grater
Cutting board
Sharp knife
Spatula or spoon
Can opener
Ingredients
2 cups Romaine Lettuce shredded
4 Tostada Shells crispy or 4 Taco Shells
2 cups Chicken cooked, chopped
1/2 cup Corn no salt added
1/2 cup Black Beans canned, low-sodium
1/4 cup Cheddar Cheese reduced-fat, shredded
Directions
1.Place ½ cup shredded lettuce or cabbage on each tostada shell.
2.Put chicken and salsa in a small bowl and stir.
3.Spoon about ½ cup chicken mixture onto each tostada.
4.Top each tostada with 2 tablespoons corn, 2 tablespoons black beans, and 1 tablespoon cheese. Serve.
Chef's Tips
Using precooked chicken makes this a no-cook meal.
Amount Per Serving
Calories 271
% Daily Value*
Total Fat 7 g
9%
Saturated Fat 2 g
10%
Sodium 351 mg
15%
Total Carbohydrate 25 g
9%
Dietary Fiber 5 g
18%
Protein 28 g
* Percent Daily Values are based on a 2,000 calorie diet. Your daily values may be higher or lower depending on your calorie needs: