Learn more about nutrition with the free EatFresh.org Mini Course! Start or continue now ›
https://eatfresh.org/eatfreshorg-mini-course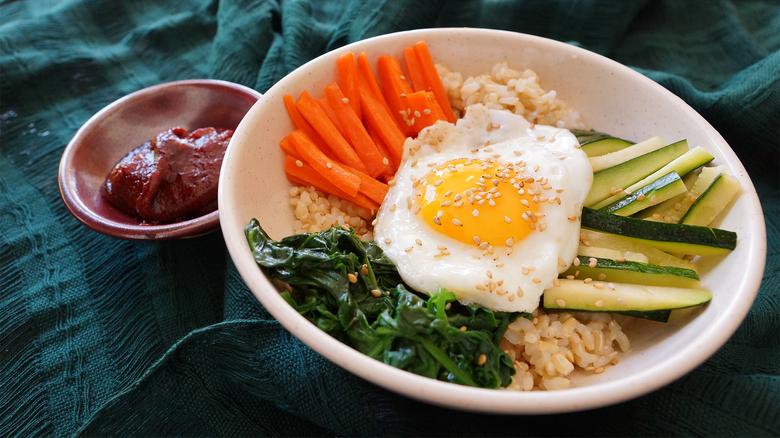 Photo attribution: Jessica Silldorff
Ready In: 37 minutes
Serves: 4
This colorful dish is a favorite way to use leftover vegetable side dishes. Top with an soft egg or a small amount of meat, such as broiled salmon or grilled beef. Enjoy with brown rice and hot sauce. Add salt to taste!
What you'll need
Measuring spoons
Measuring cups
Cutting board
Sharp knife
Vegetable peeler
Large pan
2 bowls
Stovetop
Spatula or spoon
Ingredients
1 Carrot peeled and cut into matchsticks
1 Zucchini medium, cut into matchsticks
1/4 teaspoon Toasted Sesame Oil
2 teaspoons Vegetable Oil
2 teaspoons Toasted Sesame Seeds
Gochujang Chile Paste to taste or Hot Sauce to taste
Directions
1.Season carrot and zucchini in separate bowls with a pinch of salt and a few drops of sesame oil. Steam or microwave separately until tender-crisp, 2 to 3 minutes. Repeat with spinach, cooking just until it wilts. Set vegetables aside.
2.Heat vegetable oil in a skillet over medium heat. Fry the eggs sunny-side up or over easy, about 3 minutes. Remove from heat.
3.To serve, divide rice among four bowls. Arrange the vegetables in separate mounds on the rice. At the center of each bowl, place an egg. Sprinkle with sesame seeds.
4.Each diner can add chile paste to taste, and stir everything together to enjoy.
Amount Per Serving
Calories 345
% Daily Value*
Total Fat 10 g
13%
Saturated Fat 2 g
10%
Sodium 288 mg
13%
Total Carbohydrate 51 g
19%
Dietary Fiber 6 g
21%
Protein 13 g
* Percent Daily Values are based on a 2,000 calorie diet. Your daily values may be higher or lower depending on your calorie needs: