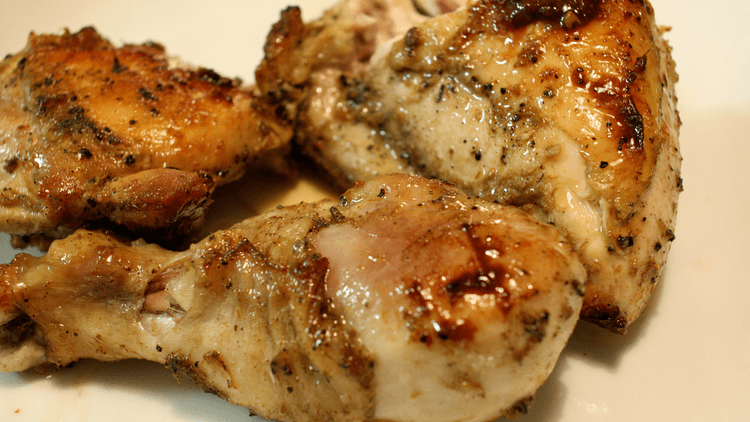 Photo attribution: Flickr: naotakem
Ready In: 7 hours 20 minutes
Serves: 10
The spices and peppers in this dish will transport you to a whole new taste.
What you'll need
Measuring cups
Measuring spoons
Large bowl
Baking sheet
Foil
Cutting board
Sharp knife
Oven
Oven mitt
Aluminum foil
Spatula or spoon
Ingredients
1/2 teaspoon Cinnamon ground
1 1/2 teaspoons Allspice ground
1 1/2 teaspoons Black Pepper ground
1 tablespoon Jalapeño Pepper chopped
1 teaspoon Hot Pepper crushed, dried
2 teaspoons Oregano crushed
2 teaspoons Thyme crushed
6 cloves Garlic finely chopped
1 cup Onion pureed or finely chopped
3 tablespoons Sugar Brown
8 pieces Chicken Skinless, 4 breasts and 4 drumsticks
Directions
1.Combine all ingredients except chicken in large bowl. Rub seasonings over chicken and marinate in refrigerator for 6 hours or longer.
2.Preheat oven to 350˚ F.
3.Space chicken evenly on nonstick or lightly greased baking pan.
4.Cover with aluminum foil and bake for 40 minutes. Remove foil and continue baking for an additional 30–40 minutes or until the meat can easily be pulled away from the bone with a fork.
Amount Per Serving
Calories 113
% Daily Value*
Total Fat 3 g
4%
Saturated Fat 1 g
5%
Sodium 161 mg
7%
Total Carbohydrate 6 g
2%
Dietary Fiber 1.8 g
6%
Protein 16 g
* Percent Daily Values are based on a 2,000 calorie diet. Your daily values may be higher or lower depending on your calorie needs: