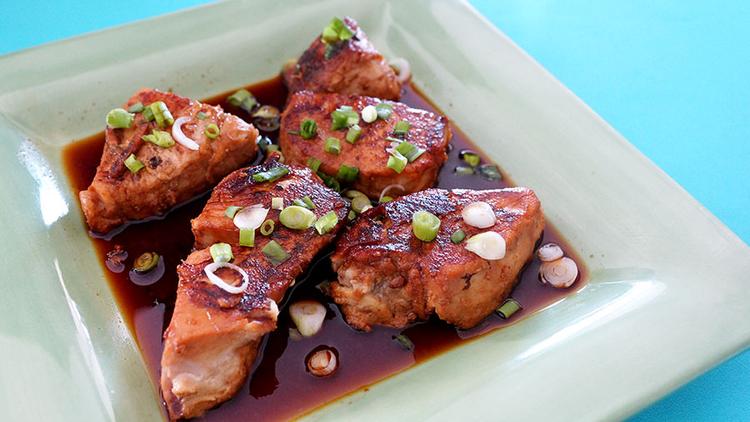 Photo attribution: Jessica Silldorff
Ready In: 42 minutes
Serves: 4
Catfish are common near rice fields in Vietnam, but salmon, chicken, pork, shrimp, tofu or hard boiled eggs are also popular cooked in this dark, rich sauce. Serve it with brown rice and a contrasting vegetable such as wilted spinach, sautéed green beans or sliced fresh cucumbers.
What you'll need
Sharp knife
Measuring cups
shallow bowl or plastic zip-top bag
Large skillet
Spatula or spoon
Ingredients
2 tablespoons Ginger finely grated
1 tablespoon Fish Sauce or 1 tablespoon Soy Sauce
1/2 teaspoon Garlic Powder
1/2 teaspoon Black Pepper coarsely ground
1 pound Catfish steaks or fillets cut into large pieces
1 Green Onion sliced thinly
Directions
1.In a shallow bowl or plastic zip-top bag, mix together the marinade (ginger, fish sauce, garlic powder, black pepper). Add fish and turn pieces to coat well. Set aside to marinate 20 minutes (or refrigerate overnight).
2.Add sugar to a heavy saucepan or skillet and place over medium heat. Cook, swirling the pan occasionally, to melt the sugar. Watch carefully to prevent scorching. When it melts into a deep brown, bubbling liquid (like dark maple syrup), add the fish to the sugar. Sear the fish until it is lightly golden, about 2 minutes each side.
3.Reduce the heat to low. Drizzle in the coconut water and stir it gently around the fish to dissolve any hard sugar. Simmer until the fish is cooked through, 6 to 8 minutes more.
4.Garnish with green onion.
Chef's Tips
Steaks hold up to the searing much better than fillets. In Vietnamese homes, this dish is often paired with hot and sour soup.
Amount Per Serving
Calories 203
% Daily Value*
Total Fat 6.8 g
9%
Saturated Fat 1.6 g
8%
Sodium 501 mg
22%
Total Carbohydrate 17 g
6%
Dietary Fiber <1 g
2%
Protein 18 g
* Percent Daily Values are based on a 2,000 calorie diet. Your daily values may be higher or lower depending on your calorie needs: